Back Issue Sale!
Back Issue Sale!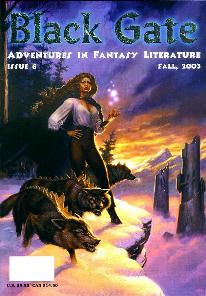 With the arrival of Black Gate 11, it's time to clear some space out of the New Epoch Press warehouse. And that means it's time for our very first Back Issue Sale.
Now's your chance to expand or complete your collection of the magazine RPGNet calls "wonderful… fantasy fans couldn't ask for a more comprehensive and worthwhile buy." And Locus's Nick Gevers says "Black Gate [contains] serious work… and magnificent storytelling."
For a very limited time, any four back issues are the same price as a new subscription: $29.95, plus shipping and handling. And any eight are just $55! That includes our second and third issues, normally $12.95, and even our rare first issue, priced at $15.95! You can own our first four issues — a $51.80 value — for just $29.95! But hurry. Quantities of certain issues are very limited, and when they're gone, they're gone for good.