Blood, Blade and Thruster Interview
Blood, Blade and Thruster Interview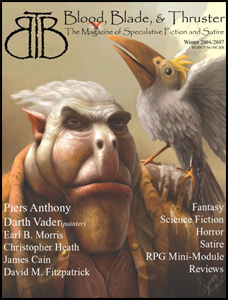 "Think Realms of Fantasy meets The Onion." That's how the editors of Blood, Blade, and Thruster describe their new magazine of "speculative fiction and satire." Angela at SciFiChick.com has posted a lengthy discussion with the editors of BBT which we thought would be of interest to Black Gate readers. We even get mentioned in the course of the interview:
I started by pestering every editor I could get my virtual little hands on. . . I was surprised when almost all of them answered in the most forthright way possible. So basically I used people who had been in the business a lot longer than I had for advice. People like Jason Sizemore at Apex Digest, John O'Neill at Black Gate, and all the folks at Andromeda Spaceways Inflight Magazine, were of tremendous help.
Read the rest at the SciFiChick.com website, and learn about one of the more unique fantasy-oriented mags to hit the marketplace.