Black Gate 8
Black Gate 8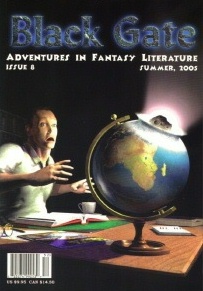 Dao Shi the Chinese Exorcist, wily hero of Iain Rowan's "Looking For Goats, Finding Monkeys" (Black Gate 6), returns in an epic tale of ghosts, magic and treachery, as he tangles with Imperial forces in his search for a demonic assassin. . .the legendary Morlock the Maker follows an enigmatic adversary into the depths of the dreaded winterwood. . .and a woman leads her shrinking tribe in a desperate race to safety, pursued by hordes of mindless monsters — and something far worse.
Black Gate 8 ships to subscribers and bookstores this week. "In just 7 issues, Black Gate, has established itself as the High Fantasy venue for the short form. . .[with] Best Of caliber work," writes The Internet Review of Science Fiction.
This issue comes packed with novellas and short stories from Charles Coleman Finlay, Jay Lake, Sherry Decker, Justin Stanchfield, James Enge and many others. In addition Rich Horton offers a lengthy retrospective of the famed Ace Double series, plus there's columns and reviews from Don Bassingthwaite, Todd McAulty, Howard Andrew Jones, and much more.