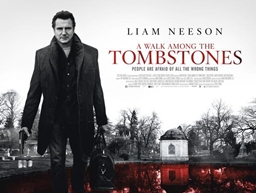 On September 19, Liam Neeson's latest blockbuster, A Walk Among the Tombstones, opens in theaters nationwide. Neeson plays Matthew Scudder, an ex-cop who is an off-the-book private investigator and a recovering alcoholic.
Scudder has starred in seventeen novels dating back to 1976 and a bunch of short stories, all written by Lawrence Block. Tombstones is actually the tenth book in the series, so they're starting well into things.
Jeff Bridges had played Scudder in Eight Million Ways to Die (the fifth book), moving the story to California(!) and making him a sheriff's deputy (Hollywood!)
Block, who I mentioned in this post, is a fantastic writer. Along with Scudder, he has written series starring an adventurer who can't sleep (Tanner), a bookstore owning burglar (Bernie Rhodenbarr), a lawyer who will do anything to win a case (Martin Ehrengraf), a likeable hit man (Keller), and a humorous Nero Wolfe/Archie Goodwin-esque pair (Leo Haig and Chip Harrison). And he's one of the finest short story writers I've run across. Enough Rope is a superb collection of his short fiction.
---