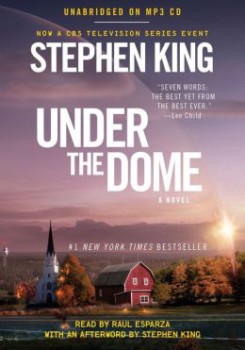 The CBS TV series adaptation of Stephen King's 2009 novel Under the Dome went into its second season this summer. I haven't watched the show, but I always thought the premise would make good television. Since the show clearly has a following, I figured I'd revisit my initial impressions of the novel. Up first is what I posted on Goodreads immediately after I finished the book in the summer of 2010. Following that are some additional thoughts as I look back four years later.
June 2010: In a way, this is The Stand on a small scale: specifically, the scale of one rural Maine town. At over 1,000 pages, however, the book's scale is anything but small. Typical King, though — all the things that fans enjoy about his writing are here: a broad cast of characters, lots of pop-culture references, and everyday people suddenly thrust into a strange situation of survival-of-the-fittest.
Basic premise, if you haven't already heard, is that the town of Chester's Mill, Maine — population 2,000 — finds itself cut off from the rest of the world by a sudden, inexplicable, invisible dome that rises far up into the stratosphere and goes deep into the earth. Things, as you can well imagine, go to hell. What may be surprising is how quickly it does: in a matter of days, not weeks or months.
I won't say anything about the ending, except to say I found it somewhat unsatisfying — King sometimes seems to have trouble wrapping up his books. They start with a bang and keep you turning the pages until the end, but the endings are often lacking in finesse.
One other pitfall that King falls into too much here is the tendency to break people into two camps: the white-hats and the black-hats, with villains so villainously drawn they could be twirling their curly moustaches as a train heads for a damsel tied to the train track.
---