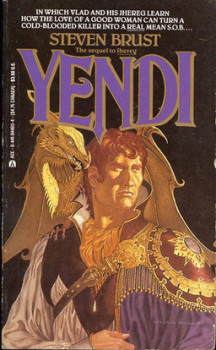 Steven Brust has written that Yendi (1984), second in his ongoing series about gangster Vlad Taltos, is his least favorite book. As it's only the second of his novels I've read, I can't tell you where it falls on a greater continuum of his work, but I can tell you it's a pretty good book. Sure, the book is flawed, but the good bits far outweigh the bad. If this is the low point in the series, then I'm REALLY looking forward to the later volumes.
The first book in the series, Jhereg (read my review here), introduces Vlad Taltos, a human assassin in a magic-heavy world ruled by the Dragaerans (who are pretty much elves). In that book, Vlad finds himself forced into carrying out a complex assassination. Aided by his mini-dragon familiar, Loiosh, and several powerful and clever friends, he succeeds beyond his own expectations. It's a blast and I'm grateful to Bill Ward for getting me to check it out.
Instead of taking the story forward, Brust goes back in time with Yendi. Here we learn how Vlad rose in the ranks of the mafia-like House Jhereg. By a combination of smarts, daring, and just enough violence, he secures a position in the gangland ecology of the Dragaeran Empire's capital city, Adrilankha. By book's end, he's well on his way to becoming the successful racketeer we meet in the first book. Unfortunately for him, things happen between the beginning and end of Yendi that make for a lousy time for Vlad, but a fast-paced story for us.
The book begins with Vlad learning that another low-level boss, a Dragaeran named Laris, has opened a gaming parlor in his territory. When confronted, Laris is apologetic and presents a series of nearly believable excuses. After the meeting, Vlad informs his lieutenant, Kragar, that they have probably no more than two days to get ready for an all-out war. His intuition proves correct.
The war between Vlad and Laris is so violent that one of the five rulers of House Jhereg summons Vlad and tells him to handle his war with more subtlety, or else. Unfortunately, it's too late to avoid the or else. Incensed by the steady string of fires and killings, the Dragaeran empress dispatches members of her Phoenix Guard to clamp down. There are curfews, restrictions on the size of gatherings, and all criminal operations are shut down.
---