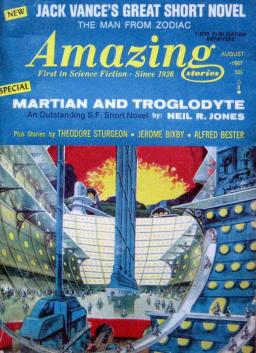 I have recently covered a lot of issues of Amazing (and Fantastic) from the Cele Goldsmith/Lalli era, which extended (officially) from December 1958 through June 1965. The two magazines were then sold to Ultimate Publishing, owned by Sol Cohen. Cohen (and managing editor Joseph Ross) immediately instituted a policy of publishing mostly reprints of stories previously published in Amazing/Fantastic, which lasted until Ted White took over in 1969. (White's issues still featured reprints for a while, but by the time I was buying the magazine (in 1974) the cover would proclaim "All Stories New – No Reprints.")
Joseph Ross (and Cohen) were briefly succeeded as editor by Harry Harrison and then by Barry Malzberg, both of whom (as I understand) resisted Cohen's reprint policy. To make things worse, Cohen refused to pay the authors for reprinted stories (technically legal under the terms Amazing had originally bought the stories under). The then new organization SFWA took exception, and threatened a boycott, after which, I believe, Cohen agree to pay at least a nominal fee.
After Amazing and Fantastic stopped publishing reprints (and even before), Ultimate published a variety of dreadful magazines with different titles like Great Science Fiction Stories, and Thrilling Science Fiction, that were all reprint. (Again, all from inventory owned by Ultimate.)
I remember buying one early in my reading career – I thought I had found a brand new SF magazine, and was crushed to realize it was all mostly shoddy reprints. (There was a decent John Campbell story, probably "Uncertainty," which appeared in the July 1974 Science Fiction Adventure Classics.)
Anyway, I happened to buy one of the Cohen/Ross era Amazings, mainly because it has a rather obscure Jack Vance story that I had not read. And I figured it would be interesting to compare it to Lalli's Amazing. What is interesting is that, viewed objectively and ignoring the fact that most of the stories are reprints, this is quite a good issue, with at least one very fine story that has been largely forgotten.
---