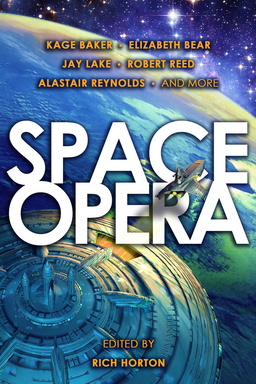 Hallelujah! Rich Horton's Space Opera anthology is finally here. And it's massive.
I've been waiting for this book since it was announced over six years ago, back in April of 2008. Rich shared his proposed table of contents at the time (and it was groundbreaking enough to be picked up as a news story at places like SF Signal, and listed at ISFDB), but the volume was eventually canceled. I thought that was the end of it, until I saw it back on the Prime Books schedule last year.
I am delighted to finally have it in my hot little hands. The project has become much more ambitious over the years. Did I mention it was massive? Rich's original TOC listed 11 stories — the finished product has twice that many, from authors like Greg Egan, James Patrick Kelly, Chris Willrich, Kage Baker, Jay Lake, Alastair Reynolds, Ian McDonald, Aliette de Bodard, Robert Reed, Ian R. MacLeod, and many others.
Rich also provides a fascinating introduction, exploring the genesis of the term "space opera" in early SF and the way perceptions of it have changed over the years — as well as a survey of overlooked classics. Here's a taste:
The term space opera was coined by the late great writer/fan Wilson (Bob) Tucker in 1941, and at first was strictly pejorative… Even so, much work that would now be called space opera was written and widely admired in that period…. most obviously, perhaps, the work of writers like Edmond Hamilton and, of course, E.E. "Doc" Smith…

It may have been Brian Aldiss who began the rehabilitation of the term with a series of anthologies in the mid-70s: Space Opera (1974), Space Odysseys (1974), and Galactic Empires (two volumes, 1976). Aldiss, whose literary credentials were beyond reproach, celebrated pure quill space opera as "the good old stuff," even resurrecting all but forgotten stories like Alfred Coppel's "The Rebel of Valkyr," complete with barbarians transporting horses in spaceship holds. Before long writers and critics were defending space operas as a valid and vibrant form of SF…
---