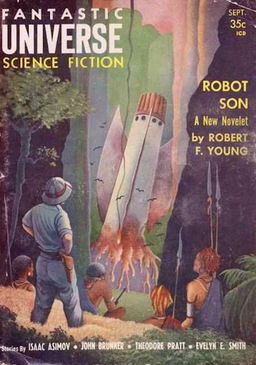 Here is probably one of the less-remembered digest SF magazines of the 1950s. Fantastic Universe was founded in 1953 and lasted until 1960, publishing 71 issues overall… it was a bimonthly briefly then a monthly until its demise (with a missed issue or two along the way). Thus it survived the collapse of the pulps in about 1955, and the American News Company disaster in 1957 or so, and even Sputnik. That's not a bad run, all things considered.
But what does historian of the field Mike Ashley say of it (in Tymn/Ashley, Science Fiction, Fantasy, and Weird Fiction Magazines):
Fantastic Universe was born at the height of the SF magazine boom in 1953, and perhaps the most surprising fact about it was that it survived the boom and appeared regularly throughout the rest of the 1950s.  Because if FU had any distinguishing feature it was its remarkable lack of memorable or meritorious fiction.
Ouch!
Alas, a skim through the TOCs of its run supports that notion: the most memorable stories were perhaps "Short in the Chest," by "Idris Seabright" (Margaret St. Clair); "The Large Ant," by Howard Fast; "Be My Guest," by Damon Knight; and Robert Silverberg's "Road to Nightfall."
Add a couple of stories more famous for either their novel expansion, or the movie version: Algis Budrys' "Who?" and Philip K. Dick's "Minority Report," and a couple decent but minor stories each by Poul Anderson and Jack Vance, oh, and say Walter Miller's "The Hoofer" and Avram Davidson's "The Bounty Hunter." There was a short Borges story in translation as well (before Borges was all that well known in the US). Not all that much to show for 71 issues: even these stories I mention are solid works but not their authors at their very best.
---