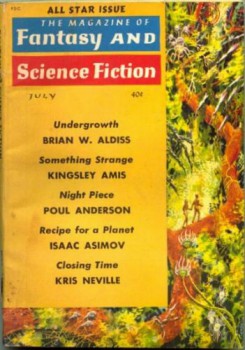 Now to an early '60s issue of F&SF. This one has an Ed Emshwiller cover, illustrating Brian Aldiss's "Undergrowth." It is billed as an "All-Star Issue," which I find curious, as several of the writers are what I would call "Little-Known."  I'll get into that a bit later.
The features: No interior illustrations, of course. There is of course Isaac Asimov's Science article, "Recipe for a Planet," which goes into great detail on the components of the Earth.
There is a Books column by Alfred Bester. He discusses a couple of Dover editions of Jules Verne, as well as a film about him (The Fabulous World of Jules Verne). He treats Kingsley Amis's New Maps of Hell (with approval, expressed in no detail, and accompanied by a recommendation for Lucky Jim, "the funniest first novel since Pickwick Papers" [(Which later first novel might be added? A Confederacy of Dunces?]). He follows with three reviews of short story collections, by Knight, Nourse, and Pohl.
That tells us something, doesn't it? How likely would  a review column today be to cover not a single current novel, but three collections?
And I suppose Feghoots can be called a feature, too. This issue features number XLI in "Grendel Briarton's" series. I have enjoyed my share of Feghoots over time, but this one is awful, and not in a good way, concerning intelligent gnus. Really, one thinks, surely Mills (or whoever was editing F&SF at any particular time) could have rejected the really bad Feghoots. Bretnor had to know better. ("Grendel Briarton" was a pseudonym, and an acronym, for Reginald Bretnor.)
---