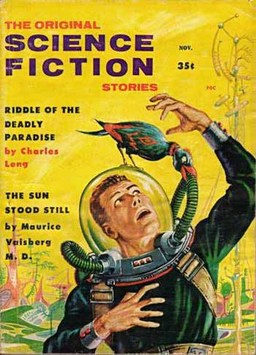 Recently, our esteemed editor John O'Neill blogged about having bought a set of copies of The Original Science Fiction Stories… so it occurred to me that a Retro-Review of a couple of those issues might be interesting. And here it is — something I wrote a few years ago, slightly polished.
Perhaps a long article about Robert A. W. Lowndes's editorial career would be interesting. His career was rather odd. Off and on for some two decades, he edited two magazines in various combinations: Future, and Science Fiction Stories. For a time, they were the same magazine, called Future Combined With Science Fiction Stories.
Actually, for a couple of different times, they were the same magazine under that title. Charles Hornig was editor for the first few issues of both magazines, from 1939-1941, then Lowndes took over and, as far as I can tell, he was the only editor until the magazines finally limped to an end in 1960.
There were two main phases of publishing these titles: from 1939 through 1943, then from 1950 through 1960. I don't think there is another example of a single editor being associated, for so long, through so many title changes and hiatuses, with the same publications. He apparently never had much of a budget to work with, either. The publisher, I suppose throughout these magazines' history, was Columbia Publications. (In the 60s, Lowndes edited one more magazine, the Magazine of Horror.)
---