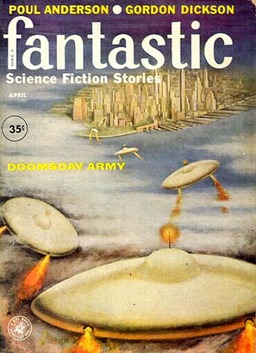 I'd rank this as a determinedly minor issue of this magazine, from fairly early in Cele Goldsmith's tenure. It has a bland cover by an artist I've never heard of, Jack Faragasso. The feature list is slim. Norman Lobsenz's editorial, very brief, is about an idea to put a ring of dust around the Earth so that it is always light. (What a dreadful idea!)
There is also the lettercol, with no contributors I recognized – the names are Miles McAlpin, James W. Ayers, Wesley Sharp, Billy Joe Plott, Frank P. Pretto (perhaps a typo for Prieto), and Michael W. Elm – and their usual small "Coming Next Month." Interior illustrations are by [Leo] Summers, Varga, and Grayam.
So, what about the stories?
The cover story is "Doomsday Army," by Jack Sharkey, an entirely too long story about a National Guard captain who ends up being the main intermediary to a bunch of (as it turns out) very small alien invaders. He's portrayed as a fairly ordinary suburban husband, prone to taking shortcuts in solving problems his wife brings to his attention: so of course his solution to the alien problem will be a dangerous shortcut. And so it is, with an implausible solution.
There's joke enough here for maybe 3,000 words at the outside, and this drags terribly at some 13,000 words. (I wonder if it was written to the cover, which does portray a scene from the story but in a very generic fashion.)
---