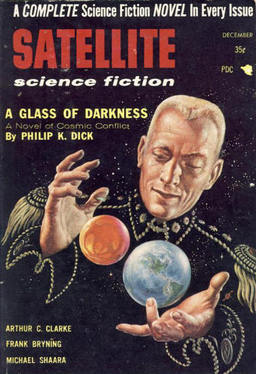 This is one of a great many '50s digests. It began publication in October 1956 as a bimonthly, and became a monthly in 1959 for its last four issues (the last was May). 18 issues total. (Apparently the June and July issues were assembled at least to some degree.)
The publisher was Leo Margulies, and the editor for the first two issues was Sam Merwin, who had done good work with Startling Stories/Thrilling Wonder Stories.
According to the Science Fiction Encyclopedia, Margulies took over after that– although the ISFDB credits Cylvia Kleinmann for a number of the later issues. I tend to trust the SFE here, especially with Malcolm Edwards and Mike Ashley responsible for the entry.
That said, Kleinmann (Margulies' wife) was also for a time editor of Mike Shayne's Mystery Magazine (also published by Margulies) so very possibly she was the editor, or perhaps it was a collaborative effort, and, as Todd Mason notes, Margulies had a long history of fronting anthology projects (under his name) that were actually edited by others.
Frank Belknap Long edited the final four 1959 issues, which were letter-sized instead of digest.
For most of its run, Satellite featured "A Complete Novel in Each Issue" (according to the SFE, to compete with paperback novels). Based on the TOCs I've seen, these really were reasonable-length novels for the day – in the range of 40,000 words.
The December 1956 issue, the magazine's second, has a promising TOC – stories by the likes of Philip K. Dick, Arthur C. Clarke, Gordon Dickson, Algis Budrys, and Michael Shaara among others. Indeed, the first few issues of the magazine were pretty promising, though it never really became a top market.
---