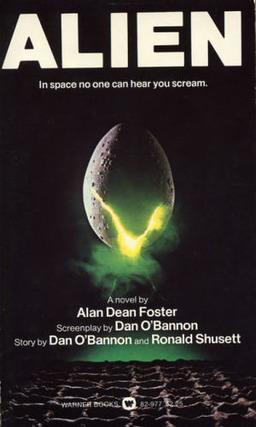 I'll never forget my first time.
I was a very young Goth Chick, spending a typical Saturday combing the used paperbacks for sale at my local library. It's hard to feed a literary addiction on a six-grader's salary, as I know every last one of you understand.
And there it was.
Dog-eared and minus its back cover, but with that impossible-to-miss front cover art. It was based on the movie I wasn't allowed to watch, the one with the R-rating, which obviously meant it was the best movie ever committed to film. Or at least the scariest.
My parents clearly had not considered the library a place to land contraband of this magnitude.
I bolted for the front desk, threw my two quarters at the librarian, waved the yellowed, pulpy tome in her general direction, and exited the library to the adjacent park where I sat planted for the remainder of the afternoon – transfixed.
That was where I fell in twisted, grossed-out love with the movie Alien – and the man who told me the story (which is better than seeing it anyway), Mr. Alan Dean Foster.  It was the beginning of a long and intense relationship, at least by sixth-grade standards.
Back then, a used-book seller would have been the most likely place to have found a copy of Alien, a book which has been out of print since 1992. A pity, since it is widely considered the defining testament to how a novelization can complement an already-great film.
But this week, all that changed.
On Tuesday, April 15th, in honor of its 35th anniversary, Titan Books released a new printing of Alien: The Official Movie Novelization.
---