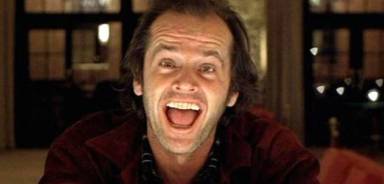 You don't have to hang around Black Gate for long to know that The Shining is my favorite horror movie of all time. So it goes without saying that today's news is proof positive that Santa is real, I've been really good, and he wants me to be happy.
Indy film writer Joe Lovero, a former auto insurance salesman who sold a full-length screenplay to Universal Studios, began work on a musical parody of The Shining entitled REDRUM: The Unauthorized Musical Parody of 'The Shining,' back in 2009. After several years developing the show with composer Jon Hugo Ungar, they decided it was time to put the concept to the test by recording song demos and film a scene to promote the project.
They landed Broadway actor and three-time Tony Award nominee Marc Kudisch to play Jack Torrance in musical short film of REDRUM, which was released in October of last year. The short parodies the scene from the film version of The Shining between Jack and Delbert Grady in The Overlook Hotel's red bathroom and features the original songs "Correct Them" and "You've Turned On My Light."
I nearly killed myself laughing.
---