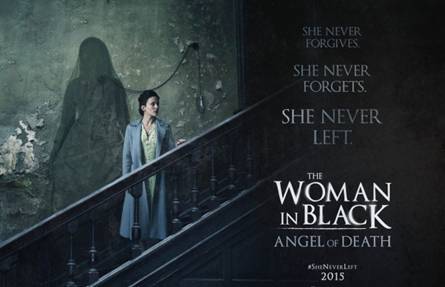 When we first told you about it, the seriously creepy novel The Woman in Black by Susan Hill had already been a long-running play in London's West End, a made-for-TV movie in the UK, and barely a rumor from Hammer Films about a theatrical remake starring Daniel Radcliffe (Harry Potter); which turned out to be true after all. The WiB with Radcliffe in the lead role hit theaters in February, 2012.
Almost immediately, Hammer Films made the announcement of its intent to pursue a sequel – which was kind of a no-brainer considering they grossed $112 million globally on a $17 million investment.
Love it or not, the old girl made bank.
The first film saw Radcliffe as lawyer Arthur Kipps, who travels to Eel Marsh House on an assignment, only to discover the house belonging to his client is haunted by the ghost of a woman who is determined to find someone and something she lost.
The film was Hammer all the way, intending to shock and in many scenes being quite successful. The atmosphere is moody and brings to mind the old Roger Corman movies based on Edgar Allan Poe stories. The movie version won't go down as a personal favorite, mainly because the play was just so darn awesome.  Still, it's worth a look if you haven't seen it.
---