A (Black) Gat in the Hand: Shovel's Painful Predicament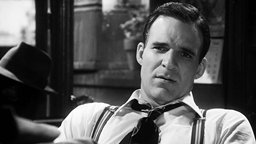 "You're the second guy I've met within hours who seems to think a gat in the hand means a world by the tail." – Phillip Marlowe in Raymond Chandler's The Big Sleep
(Gat — Prohibition Era term for a gun. Shortened version of Gatling Gun)
I am far more into pastiche – that emulation of an author's style – than parody, which uses the author's work to get a laugh. But I do read a little parody; and have written a few short stories in that category. Black Gaters know I am a huge Sherlock Holmes fan. My first column here, which ran weekly for three years, was called The Public Life of Sherlock Holmes (an homage to Sherlockian Vincent Starrett).
And, since you're reading the 82nd installment of A (Black) Gat in the Hand, you know I love wandering down those Mean Streets. If done well, I think you can mix genres. In this instance – for a little parody fun. William Gillette was THE great stage Sherlock Holmes, having rewritten a first draft of a play by Arthur Conan Doyle himself. Sherlock Holmes – A Drama in Four Acts became an international sensation. Gillette would play the role over 1,300 times on stage, make a film of it, and even, at age 82, record a radio version. It is still performed today, and such notables as Leonard Nimoy, Frank Langella, and Alan Rickman, have performed it on stage. Of course, I wrote about it here at Black Gate.
In 1905, Gillette was to perform a comedy sketch at a charity event. It fell apart at the last minute, and he quickly wrote the curtain-raiser, The Painful Predicament of Sherlock Holmes, which he performed with the great Ethel Barrymore (John's sister), as a fill-in. He would use it in the future, and it's a fun spoof of a typical Holmes case.
I decided to rewrite Painful Predicament as a hardboiled parody. And I'm thinking of a follow-up. Shovel himself is a pretty regular PI, and I do use some over-the-top hardboiled prose. But I like the humor the client provides. So, here we go…