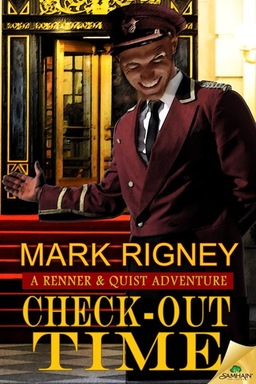 Mark Rigney is the King of All Media.
Well, all the media that count, anyway. Meaning mostly blog posts, novels, and online fiction.
The most popular piece of fiction on the Black Gate blog last month was "The Find," Part II of The Tales of Gemen, by Mark Rigney ("The Keystone," Part III in the series, clocked in at #12).
Could this have anything to do with the imminent arrival of Mark's first novel Check-Out Time? Believe what you will, but I believe that in publishing there are no coincidences. (The same goes for crime in Gotham City, if you believe Batman.) Speaking of crime, you can make out like a bandit and score one of our two Check-Out Time giveaways — enter here.
The #2 fiction post in August was from fantasy's power couple: an excerpt from heroic fantasy novel The Sacred Band by Janet Morris and Chris Morris. They also nabbed the #3 slot with "Seven Against Hell," an exclusive sample from their new anthology Poets in Hell.
The Death of the Necromancer, the complete Nebula Award-nominated novel by Martha Wells presented exclusively here on Black Gate, came in fourth. Fifth was John C. Hocking's exciting sword & sorcery tale "Vestments of Pestilence."
Also making the list were exciting stories by E.E. Knight, Joe Bonadonna, Jason E. Thummel, Harry Connolly, Aaron Bradford Starr (twice!), Vaughn Heppner, Sean McLachlan, Dave Gross, Howard Andrew Jones, Ryan Harvey, John R. Fultz, Michael Shea, and David C. Smith.
If you haven't sampled the free adventure fantasy stories offered through our Black Gate Online Fiction line, you're missing out. Here are the Top Twenty most-read stories in August.
---