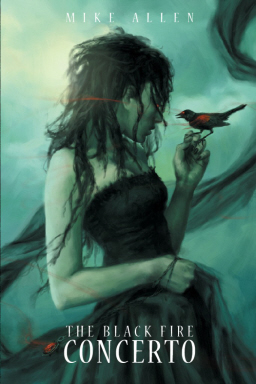 The top fiction posts at Black Gate last month both come from writers who recently released popular new books.
Mike Allen returns to the top of our charts with the exclusive excerpt from his first novel, the dark fantasy The Black Fire Concerto. Not too surprising, given that Mike has received a lot of attention recently, chiefly as a result of his breakout collection, Unseaming, released on October 1st from Antimatter Press. Check it out here.
Knocked out of the top slot last month was "The Find," Part II of The Tales of Gemen by Mark Rigney. "The Trade" and "The Keystone," Parts I and III respectively, also made the list. Check out Mark's first novel, the popular Check-Out Time, released on October 7 from Samhain Publishing.
The #3 and #4 fiction posts in September were from a couple who have become very acquainted with the top of our fiction charts: Janet Morris and Chris Morris. They claimed the #3 slot with an excerpt from their heroic fantasy novel, The Sacred Band, and #4 with "Seven Against Hell," an exclusive sample from their new anthology, Poets in Hell.
Rounding out the Top Five was Joe Bonadonna's exciting sword & sorcery tale featuring his popular hero Dorgo the Dowser, "The Moonstones of Sor Lunarum."
---