I hit a few science fiction and fantasy conventions a year, for professional reasons, but more importantly for the fun of meeting new people and catching up with friends I haven't seen in months. This weekend, I'm in Toronto, Canada, at Ad Astra, one of the two major literary fan-run conventions held every year (the other being SFContario).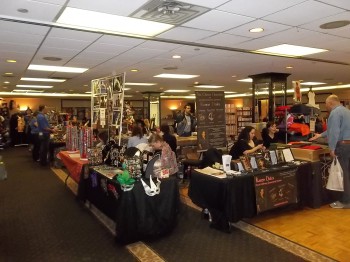 Ad Astra is a nice-sized convention with a number of programming tracks book, TV, and movie fans, writers, costumers, and shoppers. They have a great line-up of guests. David Mark Weber, creator of the Honor Harrington series and other military scifi works, is here, as is Steven Erikson, epic fantasy author of The Malazan Book of the Fallen.
Anne Lesley Groell is representing Random House (she's an Executive Editor) and Ad Astra also has Patricia Briggs, author of the Mercy Thompson urban fantasy series. Some returning guests of previous years are science fiction authors Julie Czerneda and Robert J. Sawyer, as well as Ed Greenwood, famed D&D creator of the Forgotten Realms fantasy world.
Some of the things I'm hoping to see include "Podcasting After Dark," a pod-cast interview to be run by noted critic and reviewer Adam Shaftoe, "Carbine-tipped Pens," a panel about an upcoming all-original scifi anthology edited by Ben Bova and Eric Choi. I might miss the "Steampunk Costuming for Newcomers" to catch back-to-back readings by Ottawa-area writers Matt Moore and Marie Bilodeau.
---