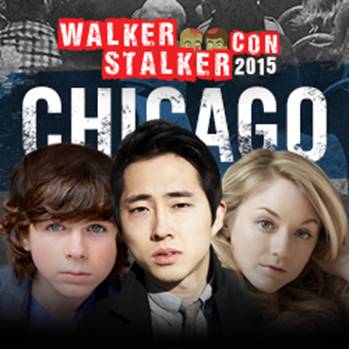 Zombies continue their relentless, feet-shuffling domination of all things pop culture – proof (we continue to hope) that sparkly, angsty, Seattle vampires with sappy theme songs are staked for good.
One of many indications that our infectious love of the undead shows no signs of a cure is the proliferation of Walker Stalker Con, a convention spawned by and primarily dedicated to, AMC's hit TV show The Walking Dead.
What started in Atlanta, GA (near where the show films) as a small fan convention organized by fanboy pod-casters James Frazier and Eric Nordhoff, then spread to Chicago in 2014 and has now grown to a seven-city tour.
Walker Stalker Con is more than a standard fan convention. In the two Chicago events we have attended, Frazier and Nordhoff have managed to secure a sizable chunk of the cumulative cast of the show's five seasons and space for "the talent" accounts for more than half of the convention floor.
In addition, the organizers strive to ensure all guests "come away feeling like they've had an amazing experience and became part of a greater community of zombie lovers!"
Is this great or what?
---