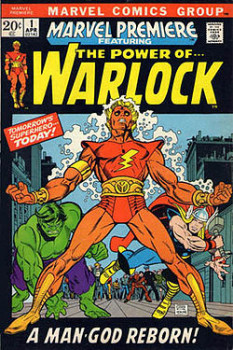 I think that my first encounter with Adam Warlock was in The Power of Warlock #2. Even at 11 or 12, I gravitated towards the lonely, brooding heroes of the Marvel universe, like Daimon Hellstrom and Doctor Strange, so I was hooked on my first look at Warlock. Like Hellstrom and Strange, Adam Warlock walked around with a heavy touch of destiny and Warlock #2 was a pretty brain-expanding issue. I read a lot of Adam Warlock since then.
In my head, I break down Adam Warlock's history into three periods: (1) pre-Jim Starlin, which covers from his "birth" to the cancellation of his series in 1973, (2) the Starlin era, covering from 1975 until Warlock's death in 1977 and (3) the post-Starlin era (which I name with wild inappropriateness, because Starlin still had a big hand in it), which basically covers Warlock's resurrection onwards.
In this first post, I want to talk about the first period, the pre-Starlin Adam Warlock. I have always felt that this run of comics is a bit like a tiny restaurant serving great food that no one knows about but me.
---