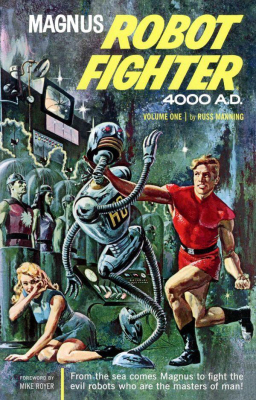 I had thousands of comic books when I was a kid (heck, I've got thousands of them now), but I never had a single Gold Key book — I avoided them like the plague. I didn't like their painted covers; I didn't like their series based on flop Irwin Allen TV shows like Land of the Giants and Time Tunnel; I didn't like that Superman or Green Lantern were nowhere to be found in their stories.
I wheedled hard to get that twelve or fifteen cents (that's what comic books cost in my day, Sonny), and was determined to be discriminating with it. Yes, even as a kid, I was a snob — a trash snob, but a snob.
Recently, however, in a spirit of scientific investigation, I picked up the first two Dark Horse paperback collections of Magnus Robot Fighter 4000 A.D. The books collect the first fourteen issues of Magnus that Gold Key published between 1963 and 1966. Dark Horse has done a superior job with these beautifully-produced volumes;  in addition to the original stories, they feature appreciative introductions by Mike Royer and Steve Rude, samples of original concept art, and the covers that I so disliked as a kid.
Most importantly, the reproduction of the comic pages themselves is first-rate. The coloring is especially good; it's clean and sharp without being overpoweringly bright, as some of DC's Archive books have been. (The non-glossy paper used is a big plus in this regard.)
So the wrapping is nice — what about the present? Who the heck is this Magnus guy, anyway?
---