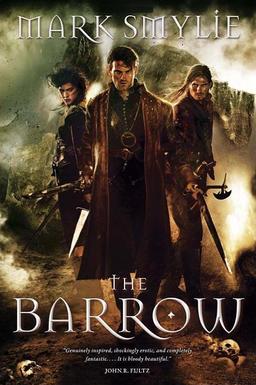 The book mugged me. It was supposed to stay safely several weeks down in my queue while I kept commitments to other law-abiding books that had been waiting patiently for review. Then up walks The Barrow, brazen as you please, distracts me by flashing its jacket copy, and steals two weeks of all my attention right out of my calendar. But what else can you expect from a book full of gangsters, extortionists, rabble-rousers, mercenaries, slumming disgraced nobility, and assorted other low-life types?
I haven't quite figured out how Mark Smylie pulled it off. The book has some obvious excellences, and some obvious failings, and some oddities that might be mistaken for one only to turn out to be the other. I'll need to read more of Smylie's work to figure out what tipped the balance in the book's favor.
I found most of the characters somewhere between off-putting and odious, and nearly every time the body count went up by one, I was relieved at not having to put up with that character for one page longer. It's as if Smylie had set himself the task of outdoing George R.R. Martin for grittiness of characterization, and overshot by twenty miles.
There are readers who love that sort of thing; I'm not usually one of them. As the endgame of the novel came in sight, there were only three characters I cared about at all — the enigmatic hero Stjepan Black-Heart, the cross-dressing street fighter Erim, and the disgraced noblewoman Annwyn. I kept coming back to my two snarky rhetorical questions: How are these two women going to survive ten more minutes surrounded by all those sociopaths? And when is Stjepan going to have a male friend who does not suck?
Only it turns out those are the questions that matter most, and several of the glitches I had mistaken for goofs on the author's part ended up being the keys to the story's other puzzles.
---