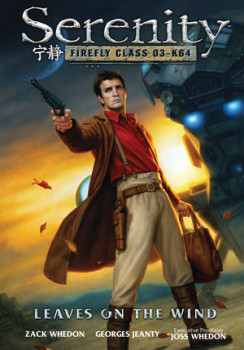 The film Serenity brought a fair amount of closure to fans of Firefly, but as with any great story it didn't end there. Each character goes through events in the film that transforms them in some way, and the story is never over. The classic hero's journey ends not with the climactic battle, but with the return. The hero comes back to where he (or she) began and, through the events, has been transformed. Indeed, often their home itself has been transformed in some way, even if only in the way they view it.
The 6-issue limited comic book limited series, now collected together in Serenity: Leaves on the Wind (Amazon) completes the "Return" aspect of the hero's journey for our crew … and since it's a story in its own right, it also contains a full journey within it, with a new call to action, a new conflict, a new shift under the feet of the heroes. New allies and enemies are introduced, and the crew continues to change.
The series begins in the aftermath of Serenity, where the revelations about the origins of the Reavers spark heated debate across the 'Verse. While pundits debate the veracity of the allegations, both the Alliance and a growing New Resistance movement are looking for the man who started it all: Malcolm Reynolds.
---