NEW EDGE SWORD & SORCERY Magazine Launches!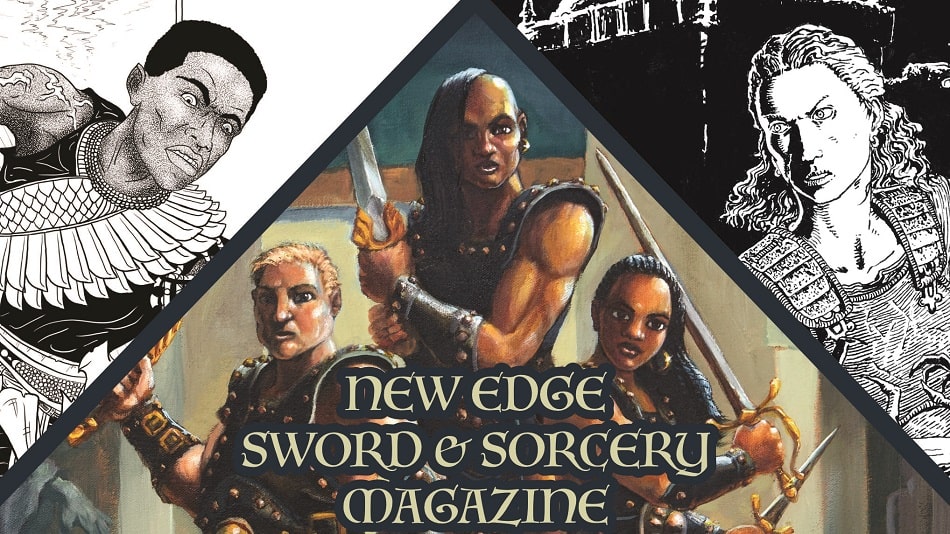 Last October, Michael Harrington hosted an interview with Oliver Brackenbury on Black Gate; Brackenbury is the editor and champion of the New Edge Sword & Sorcery Magazine. That post coincided with the release of the teaser Issue #0 including short fiction & non-fiction (free in digital format, or priced at cost on Amazon Print-on-Demand, through the New Edge Website). And now we announce:
NEW EDGE SWORD & SORCERY launches
KICKSTARTER FOR ISSUES 1 & 2
Thirty-day crowdfunding campaign begins on Feb 2nd, with issues shipping in Fall 2023
The legendary Michael Moorcock will have a brand new, original story featured in issue #1.
He joins twenty other fiction & non-fiction authors, such as Canadian horror master Gemma Files, Margaret Killjoy, David C. Smith, Hugo Award-winner Cora Buhlert, Milton Davis, and more. There will also be a tale by Jesús Montalvo, an author from the burgeoning S&S scene south of the US border, translated from its original Spanish.
Nineteen artists are spread across the two issues, including Morgan King, who directed Lucy Lawless in his 2021 rotoscope-animated Sword & Sorcery film The Spine of Night (featured on Black Gate in 2021). Samples of the various artists' work are available on the Kickstarter campaign page, while also being shared across the magazine's Facebook, Instagram, and Twitter accounts.
Each issue will feature seven original stories and four works of non-fiction: one book review, one essay, one in-depth interview, and one historical literary profile of figures like Charles Saunders or Cele Goldsmith. All stories, essays, and the profiles will be paired with at least one original B&W illustration.