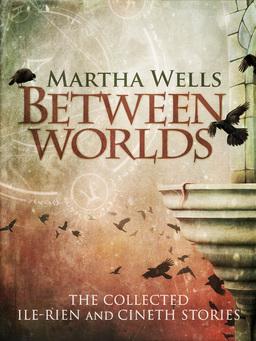 Martha Wells was one of the most popular writers ever published in Black Gate. In fact, her three Cineth stories featuring Giliead and Ilias helped bring us a host of new readers.
Those three stories have never been collected — until now. Between Worlds: The Collected Ile-Rien and Cineth Stories, one of six anthologies to be funded by the successful Six by Six Kickstarter in December, is now available. It contains "Holy Places," "Houses of the Dead," and "Reflections," which first appeared in Black Gate 10, 11, and 12, as well as "Night at the Opera," a brand new Nicholas and Reynard story set before The Death of the Necromancer, and two other stories.
We serialized Martha's complete novel The Death of the Necromancer here.
The Six by Six project brought together six popular fantasy and SF authors — Martha Wells, Will McIntosh, Tina Connolly, Stephen Gaskell, Brenda Cooper, and Bradley P. Beaulieu — to create six new collections featuring each author. Two have shipped so far, Martha's Between Worlds, and Futures Near and Far, featuring six stories by Will McIntosh.
In addition to the Black Gates stories and the new Nicholas and Reynard tale, Between Worlds also features "The Potter's Daughter," a prequel to Martha's novel The Element of Fire, and the Giliead and Ilias story "Rites of Passage."
Here's the complete table of contents.
---