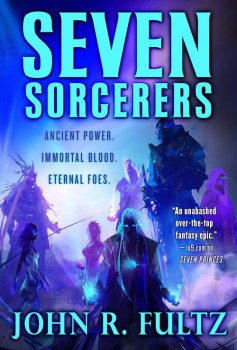 When I was growing up, everybody tried to tell me what to read.
My parents wanted to me read "normal" books, not "trashy" books with Frank Frazetta covers featuring scantily-clad maidens, sword-wielding barbarians, or hideous monsters. My teachers wanted me to read Modern Literature — and they made sure I was exposed to as much as possible — although my favorites were Hamlet and Beowulf.
In college my instructors pushed Ernest Hemingway and Raymond Carver toward me and I read them, but only because I was required to. None of this depressing and introspective realism caught my fancy. I was made for more fantastic stuff. Oh, I read. Voraciously. From the time I was old enough to hold a book I read non-stop. It began with The Hobbit in third grade, and before I finished middle school I had finished The Lord of the Rings trilogy. But I read what I loved, not what people THOUGHT I should read. I read fantasy. (With liberal doses of horror and sci-fi.)
I read Robert E. Howard, Edgar Rice Burroughs, H.P. Lovecraft, Clark Ashton Smith, Michael Moorcock, Lin Carter, Weird Tales magazine, and later Tanith Lee, Robert Silverberg, William Gibson, and Lord Dunsany. I read fantasy fiction with a dark edge, sword-and-sorcery, horror, and sci-fi. I even read my share of Stephen King, David Eddings, Piers Anthony, and John Norman. I didn't give a damn what people thought I SHOULD be reading. Still don't. I didn't care that most of my literary heroes were from the pulp fiction era, and that their work was largely dismissed as "trash" when they were producing it. I read their works three or four generations after the fact, and I loved it.
Today I enjoy discovering new authors who take those pulp-inspired roots and do something entirely new with them–who breathe fresh life into classic concepts. I've found such writers in A.A. Attansio, R. Scott Bakker, and Guy Gavriel Kay, to name a few. If somebody recommends a book or an author to me, I'll check it out. But it doesn't take me all that long to figure out if it's for me. If I like it, great! I'll spread the word about that author and his/her work. I love to shout about the things I really dig. But if I don't care for it, that simply means that a particular piece of fiction didn't meet my personal taste. No harm done.
Because that's all that really matters, when it comes to fiction. Personal taste.
---