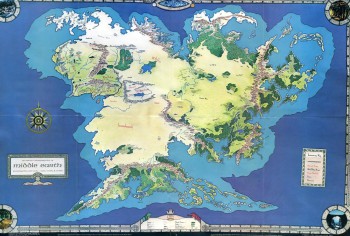 Have you ever designed a campaign and thought to yourself, 'Damn, this is so good, I should build a company on it?' Well, certainly you aren't the only one, and dozens of game companies have been born from folk's home brew campaigns, but it wasn't until very recently that I realized that I.C.E.'s Middle-Earth Role-Playing was born of the same ilk.
Now before you all go running off to Twitter about Tolkien being a RPG nerd, you have to have the full understanding of what I'm talking about. First and foremost, Tolkien WAS NOT a gamer, but that didn't mean that his world wasn't ripe for table-top role-players to want to explore in the mid to late 1970s.
One case in particular came out of the University of Virginia in 1977, when then student Pete Fenlon decided he wanted to create a role-playing game around Tolkien's world for some friends on campus.
My first question upon finding this out was, 'Why didn't you just play D&D?' and Pete's answer was simple: D&D simply wasn't Tolkien. As an avid camper and backpacker, as well as a member of the SCA, Fenlon understood way too much about Tolkien to throw a campaign into a world of negative integer armor classes and D20 to-hit charts.
---