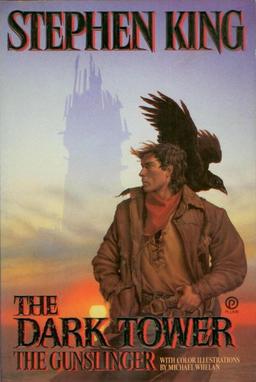 Someone please tell me. Why? Why do we do this to ourselves, we devotees of science fiction, horror, and (especially) fantasy? What did we do to deserve this? What crime did we commit in some previous existence that we now have to expiate with such bitter tears? Judge, I deserve to know! I demand answers!
But… I see that you too have questions, like, "What the hell are you talking about?"
Let me explain. I just finished The Dark Tower: The Gunslinger by Stephen King. Seduced by the very cool Michael Whelan cover, I bought this damn thing in 1988 when it first came out and this week I figured it was finally time to read it.
There can be no rational explanation for my behavior, as the book is only the first of seven volumes that King wrote to tell this story (not counting a standalone book that he added after the main sequence was finished), and of course (of course!) they get longer and longer. This one was not much over 200 pages, but apparently King soon shook off his delirium and said "What am I doing? I'm STEPHEN FLIPPING KING!!!" and the succeeding volumes rapidly ballooned to 600 pages, 700… until the final book, 2004′s The Dark Tower, tipped the scales at almost 1,100 pages.
Considering that I'm still waiting on George Martin to put up or shut up before death (his or mine) intervenes, and finish A Song of Ice and Fire, vindicating all of us who've already hacked our way through over 4,000 pages of that cursed tale, starting another ambitious, multivolume phonebook series is sheer, unadulterated insanity.
Why? WHY?! Why do we do this to ourselves? People who read westerns or mysteries know no such madness. Oh, they have series all right, but not like we do. Manacling ourselves to extended epics that take up half their writers' and readers' lives, built out of mile-high stacks of ever-expanding, elephantine tomes – this seems to be the particular curse of fantastic fiction readers. (I won't even go into the fact that the 1988 edition I read has been rendered obsolete by a revised edition that King published in 2003; it took him so long to write the sequence that he felt the style of the first book didn't fit with the rest any more. Thanks Steve, but by God, this is the one I paid my $10.95 for twenty seven years ago, and this is the one I'm reading!)
---