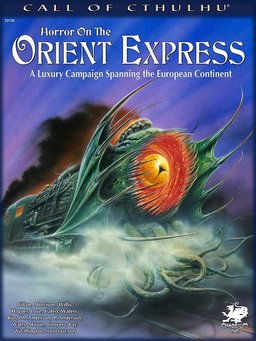 In 1991, more than 23 years ago now, Chaosium published the most ambitious Call of Cthulhu adventure ever created: Horror on the Orient Express.
It was a huge undertaking — a complete campaign that  spanned the European continent, crammed into a box containing four lengthy books, numerous player handouts, a European route map; cardstock plans of the train that could be laid end-to-end; scrolls, and even luggage stickers. It wasn't merely a high water mark for CoC; it was a template for how mega-adventures could be created.
The box retailed for $39.99, a lot for a role playing supplement in those days, and it didn't really sell that well. It wasn't long before it went out of print, and Chaosium — which invested heavily in the failed Mythos card game in the mid-90s — ran into financial difficulties and broke apart a few years later.
As a result, Horror on the Orient Express got lost in the shuffle. It was never reprinted, and it rapidly became almost impossible to find. It was still talked about for many years by dedicated fans, however, and the combination of scarcity and its status as the pinnacle of CoC adventures meant it gradually acquired a legendary status.
Well, you know what happens to those rare game supplements (or books — or anything, really) that even determined fans can't get their hands on. They become a holy grail for collectors. And that's exactly what happened to Horror on the Orient Express. I started to see copies selling for $200-$300 and up, on those rare occasions I saw one at all.
---