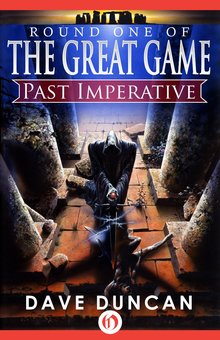 Connor Gormley wrote a post not long ago in which he discussed the seeming sameness of the current state of Fantasy. That the genre which should be most imaginative showed a singular lack of imagination, or flexibility might be a better word, in its choice of settings and characters. The comments give you a pretty good idea of how people agreed or disagreed with his thesis, and the whole post is well worth looking at. I think what it did for a lot of people, however, is remind them of books they've read that aren't cloyed down with the sameness of things.
In my case, I was reminded specifically of Dave Duncan's work. I've mentioned his Alchemist Novels in discussing fantasy mysteries, and one day I'd like discuss the brilliant West of January in more detail, but at the moment I want to introduce you to the trilogy The Great Game, made up of Past Imperative, Present Tense, and Future Indefinite.
At first glance it seems we're being dealt a typical stranger-in-a-strange land trope, but as is so often the case with Duncan, the first glance is all you get for free. I think it's safe to say that whatever you think Duncan's up to, it's very seldom what's going on.
Part Imperative begin with two apparently unconnected storylines, or rather, we assume they are connected – not being entirely new to this game ourselves – but we aren't shown how until much farther into the narrative than we'd expect. An epigraph does give us a broad hint, but honestly, it's very easy to overlook. I have a theory that fewer than half of all readers actually read epigraphs, even the ones at the beginning of chapters, but that's neither here nor there – which, come to think of it, pretty much describes the position of Duncan's characters.
---