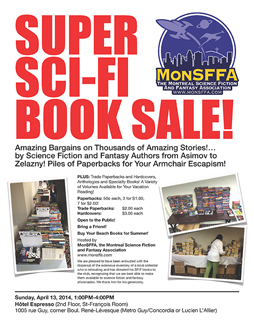 Leaving the dark brick stairwells of the Lucien L'Allier métro last Sunday morning at 10, we found the rain was holding off: something not to be expected. Forecasts called for meteorological chaos in Montréal over the following days. Up to 24 degrees celsius, down to 2, thunderstorms, snow. But that was in the future. For the moment Grace and I were looking for books, to hold us through those unsettled days and more.
Not that we were lacking for books to read, truly. But the point of a used-book sale isn't just to buy a title you could (if you don't mind cheating) get from Amazon or Abebooks. It's to find something you didn't know you want, or something you never thought you'd find, at a price you can't believe; to get a chance at something that happens to come around just at that moment. To be in the right place at the right time.
It had already been a busy weekend. I'd been to two book sales over the previous two days, with my girlfriend Grace joining me at the last one. I'd found some nice titles (Carter's Nights at the Circus, the Strugatskys' Roadside Picnic, Danielewski's Only Revolutions, many more), but nothing too surprising. Both those sales were the most recent iteration of annual events, so we knew what to expect of them going in. The one we were approaching now, at the Hotel Espresso on Rue Guy, was more of a mystery. MonSFFA, the Montréal Science Fiction and Fantasy Association, was holding what they promised would be a massive sale of sf and fantasy books. The books came from a fan who had to liquidate his collection, and officially the sale started at 1; but I'd seen an appeal on Facebook for volunteers to come in early to help set up in exchange for first crack at the stock, so Grace and I had decided to lend a hand. We had no idea what kind of collection this was, or what we'd find.
---