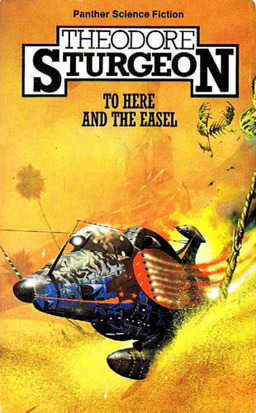 A few weeks ago, I wrote about Theodore Sturgeon's collection The Stars Are the Styx and complained that virtually all of Sturgeon's brilliant short story collections had now been out of print for over three decades.
I did this mostly out of bitterness and greed. I'd spent several years happily tracking down all 16 of Sturgeon's paperback collections — a highly collectible lot — but now, those days were over. I wanted more, but  no more were forthcoming. It's not like I was going to discover a new Sturgeon collection I'd never heard of or something.
Of course, a few days after I wrote that article, I discovered a new Sturgeon collection I'd never heard of.
It was To Here and the Easel, a gorgeous Panther paperback from 1975, with an eye-catching Peter Jones cover. I discovered it accidentally on eBay and, after gawking at it for several long minutes — and them making sure it wasn't simply a retitled version of a US collection I already had — I promptly purchased it.
It arrived a few days later and I am thrilled to have it. Here's the back cover blurb:
Here are all the ingredients for a splendidly varied and entertaining collection of science fiction and science fantasy: a mental parasite which lives in the minds of successive human hosts, forcing them to do its will… the man who 'reads' gravestones… a devastating weapon sent from beyond space and time which poses the ultimate threat to an already shaky galactic federation… and more!

With virtuoso skill and brilliance of invention, Theodore Sturgeon displays in this collection the mastery of his field which has won him international acclaim.
---