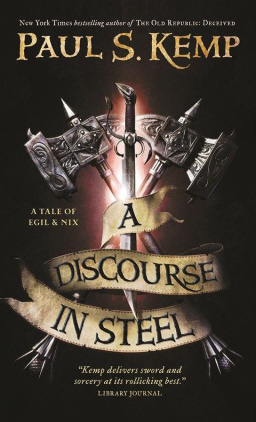 There's a school of thought in cover design that says that book covers with a heavy design element — as opposed to a reliance on artwork — are taken more seriously.
There's something to this. A lot of bestsellers eschew artwork altogether in favor of design, and it seems to work just fine. When George R.R. Martin's A Game of Thrones became a bestseller, Bantam Spectra jettisoned the artwork by Stephen Youll that had been on the cover for nearly ten years, and replaced it with the boring cover you're familiar with today. No artwork, just a shining sword. Most mainstream readers won't buy a book that looks too much like a fantasy novel — or at least, that's the theory.
That was the first thing I thought of when I saw the cover of Paul S. Kemp's  A Discourse in Steel, the second novel in his Tales of Egil & Nix series. It's a sharp cover, actually, with a clear adventure fantasy theme. The lack of artwork and focus on design brought A Game of Thrones to mind (maybe it's supposed to). But I also found it a little generic.
Here's the book description.
Egil and Nix have retired, as they always said they would. No, really – they have! No more sword and hammer-play for them!

But when two recent acquaintances come calling for help, our hapless heroes find themselves up against the might of the entire Thieves Guild.

And when kidnapping the leader of the most powerful guild in the land seems like the best course of action, you know you're in over your head…

A hugely-enjoyable stand-alone adventure in classic sword and sorcery mode, from the New York Times bestselling author of Star Wars: Deceived and The Hammer and the Blade.
---