Shimmer 23 Now on Sale
Shimmer 23 Now on Sale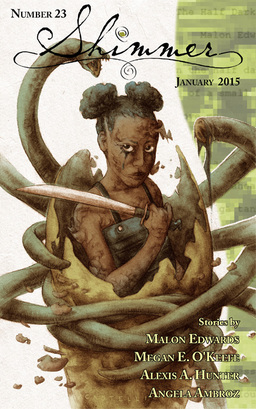 I'm someone who believes that the core of the fantasy genre is still its short fiction magazines.
This used to be a lot more true, of course. When fantasy and science fiction were still fresh and new as distinct literary genres in the early 20th Century, the only place they regularly appeared was pulp magazines. For fantasy, that meant Weird Tales, the shot-lived Unknown, and later Famous Fantastic Mysteries and the like. Mass market paperback fantasy didn't take shape until the 1950s, and didn't really become popular until The Lord of the Rings appeared in paperback in the 60s. Nowadays when people think of fantasy, they tend to think of paperback bestsellers like George R.R. Martin, Stephen King, and Brandon Sanderson.
Where did all three of those writers get their start? In magazines, of course.
Magazines are where the next generation of breakout fantasy writers are already at work today. And if you're interested in trying a magazine that has a fabulous rep for discovering and promoting stellar writers long before they're well know — authors like Amal El-Mohtar, Genevieve Valentine, Lou Anders, Chris Roberson, Aliette de Bodard, and many others — then I highly recommend Shimmer.
Shimmer is published bi-monthly, and edited by E. Catherine Tobler. It's available in both print and your choice of DRM-free electronic formats (indeed, a wide range of formats, not just PDF and Kindle.) It has shown a talent for rooting out great fiction across a wide range of fantasy and SF, and takes pride in publishing "Speculative fiction for a miscreant world."
Here's the best description I've found for the kind of fiction Shimmer is looking for, taken from the magazine's Fiction Guidelines:
We're most drawn to contemporary fantasy, and seek out stories with a strong emotional core. We like unusual stories with a fluid and distinctive voice, with specific and original images. Send us your odd unclassifiable stories — though we prefer traditional storytelling mechanics to experimental approaches. We're less likely to be interested in sword and sorcery, hard SF, space opera, paranormal romance, and slasher horror.
In her editorial for the latest issue, E. Catherine Tobler revisits the question:
What makes a story Shimmery?… a confident voice that knows where it's going from the first line, even if I, as a reader, don't know. The immediate delivery of an image that is unusual, arresting; an image that makes you pause and want to see more.
The latest issue offers four longer stories, all from writers new to the magazine: Malon Edwards, Megan E. O'Keefe, Alexis A. Hunter, and Angela Ambroz.
Shimmer #23 collects four stories about transformation and acceptance. From the seemingly unreachable depths of space to the hidden depths of the human heart, these new-to-Shimmer authors will take you on journeys you won't soon forget.

"The Half Dark Promise," by Malon Edwards

Something moves in the half dark two gas lamps ahead of me. I hold fast at the edge of a small circle of gaslight cast down from the street lamp above me.

"Of Blood and Brine," by Megan E. O'Keefe

Child's mistress was out when the scentless woman entered the shop and laid a strip of severed cloth upon the counter. For once, Child wished her mistress were at her side.

"Be Not Unequally Yoked," by Alexis A. Hunter

Things used to be pure inside me. Separated. When I was a boy, I was wholly a boy. When I was a horse, I was wholly a horse. Things used to be simple inside me. I was all one thing or I was all another. And the two only got close when the change was happening.

"Monsters in Space," by Angela Ambroz

When I think oil rig, I think big metal Viking onslaught in the night. I think tower of the gods, fucking Valhalla, and a screeching guitar solo. My eyeballs of imagination are compelled to perceive beautifully inky black skies, inky black seas, inky black oil. It is, in short, inky black badassery.
A new story from Shimmer #23 will be released on the magazine's website every other Tuesday; or you can buy the complete issue in a variety of formats.
Shammer 23, cover dated January 2015, is now on sale. It is edited by E. Catherine Tobler and published by Beth Wodzinski. Digital editions are just $2.99, and 6-issue (one year) subscriptions are only $15. Order directly from the magazine's subscription page.