Bloody Battles, Espionage, Dark and Beautiful Prose, & Lovecraftian Horror: A Review of Karl Edward Wagner's Dark Crusade
Bloody Battles, Espionage, Dark and Beautiful Prose, & Lovecraftian Horror: A Review of Karl Edward Wagner's Dark Crusade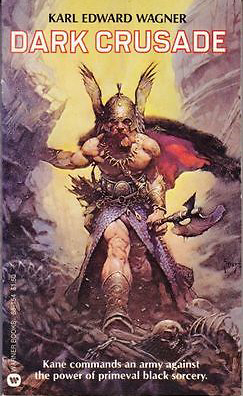 You guys are going to love for me for this. So very much. Someone, somewhere might have mentioned this already, but whatever, now it's my turn.
All of the Kane books, both the novels and short story collections, have been released on Kindle for four or five bucks each, which is a mere three pounds if you live in England. It's kind of bittersweet actually, because it means all that time I spent rummaging around in the musty corners of used bookshops looking for Bloodstone (which I reviewed, by the way) has kind of gone to waste, and anyone that spent around 100 bucks for a copy of Gods in Darkness or Midnight Sun is going to want to curl up in a big ball over there in the corner and have a little cry. So whilst you do that, I'm going to get on with the review, if you don't mind.
Dark Crusade revolves around the rise of the dark Cult of Sataki, its meteoritic domination of the kingdom of Shapeki, the brutal regime it establishes and its enigmatic and mysterious prophet Orted something or other. When Orted's fanatical cult of peasants try to seize the southern kingdoms, they are swiftly and brutally quelled by a superior military force, and that's when Kane, a mercenary, steps in to help.
Kane really is the star of the show here, as anyone familiar with the series will tell you, but for anyone not in the know, Kane is a prince cursed with immortality who has wandered the world for eternity, plumbing its secrets, learning grim and interdicted sorceries, seeking out mysteries and conflicts and battle and war, and just generally trying to entertain himself during the course of his unending life.
His long years have given him knowledge and skill beyond that of any normal man, but also a sense of detachment; the man has no true friends, no real allies and any he attains are mere tools, to be used to meet his own mercantile means. He's fascinating, fantastic, utterly self-interested, somehow channeling Moorcock's Elric and Howard's Conan at the same time; two opposite sides of the same coin. He's hands down one of the best anti-heroes in the business.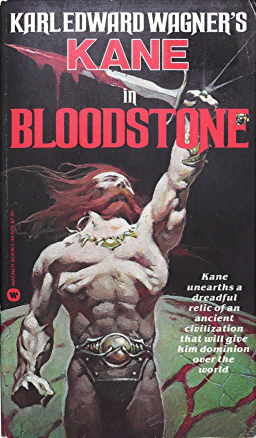 But you all already knew that, didn't you? Yeah, you did. What you really want to know is if this novel, in particular, is any good. Well, fear not, reader, that part, the actually good bit of this review, is forthcoming.
It doesn't start off too well; where Bloodstone clapped you on the back and strapped you into a rollercoaster straight into a volcano made of solidified awesome right from the start, Dark Crusade starts by putting you in a rocking chair and feeding you breast milk next to a warm open fire. It spends too long twatting about in the history and politics of the setting, talking about how the king is dying and two rival sides, the red and the blue, have cropped up, each vying for power, and how civil war has erupted between them; oh wait no it's not full on civil war, it's just semi-civil war with the occasional massacre thrown in for good measure; it's convoluted and irritating and serves no purpose other than to establish a rivalry between Kane and another general, Jarvo, and to show us that Kane is really cunning, all of which could have been done better with a different situation anyway.
And, Kane aside, it leaves us with a bunch of odious caricatures that don't evolve much until very late in the narrative. In the Kane series, the setting has never been more than a quasi-medieval world with something of a gothic twang, something that changed whenever the narrative needed it to. And that's the case here, it's just that Wagner lingers on the backstory a little too long.
Then there's the issue of Orted's grand unveiling at a big ol' trade fair by the cult of sataki. The cult tells everyone that the world's about to end and that everyone's going to die and that their dark god is about to fart fiery destruction all over creation, that the only hope of salvation is to join their dark cult and instead of doing the normal thing, you know, telling Orted he's a delusional thicko, the peasants conceive that, somehow, he must be right and proceed to freak out, kill all the guards, and put the cult in control.
What? Whether Orted was possessed by a dark demon god or not, the people have no convincing reason to believe that this obscure, decadent local cult holds the key to life or death in the apocalypse, simply because the prophet doesn't have a shadow, which is, apparently a common trick, anyway.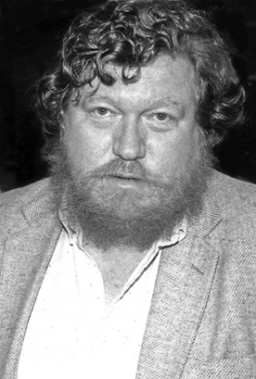 It all feels like a plot device, something Wagner used to get the ball rolling rather than thinking about how actual people act. Here they act like automatons, puppets that bend to the whim of their master, no matter how stupid his proposals are. Real people might tell Orted to go away and think about his life but, evidently, Wagner spent the entirety of his life in a cupboard making his puppets dance for him and cackling maniacally. He is, admittedly, one crazy looking dude.
So the opening is less bitchin' bare-fisted fantasy bar fights with creatures from beyond the cosmic veil of time and space, and a little more political twaddle and stupid people being stupid.
But, that isn't to say the narrative doesn't eventually become compelling. It's impossible to deny the sheer volume of stuff that Wagner shoves in here; within the space of two-hundred something pages we have moral ambiguity, betrayals, power mad prophets, brutal and bloody battles, espionage, dark and beautiful prose, sword fights, desperate escapes, Lovecraftian Horror, and a psychedelic romp through Kane's very own mind. In that space, all the Grim Company did was play cards and try to eat their own farts.
Admittedly, nothing quite matches the stonking great green death ray from Bloodstone, but one gets the sense that Wagner wasn't trying to do that, that he was aiming for something of a slightly different flavor than Bloodstone's pulpy action. The characters are more developed, are given noticeable flaws, and when you aren't with Kane there isn't always the sense that something more interesting is happening somewhere else, like there was with Bloodstone. Jarvo, in particular, gets quite a lot of development, going from a smarmy, self-satisfied idiot at the start of the novel to a broken, honorable  man not only trying to bring down the Satakis, but trying to do it whilst caring for those who helped him during his hour of need, someone prone to bouts of blindness, of impetuous stupidity that ultimately prove very dangerous. He's almost as interesting as Kane, so you pine for the big red teddy bear a little less when he's not around.
Oh, and this is a brutal book, too, brutal in a way that compliments the narrative, as opposed to being brutal for the sake of being brutal, like Joe Abercrombie can occasionally be. Having established dominance over most of the southern continent, the Sataki cult consolidates their power by eradicating any and all who don't subscribe to their particular strain of thought; public executions, indoctrination, and midnight raids are all commonplace. Children sport with decapitated heads and crucify their peers on the street, all as the city guards look on, nonchalant.
Sure, it establishes the Satakis as utterly ruthless, but it creates this world in which there is no hope, in which there are no heroes, the closest thing to a 'good guy' there is Jarvo, who although he has a strong cause, can be reckless and selfish. Kane is a self-interested mercenary, only really involved to kill a few more hours; there's no hope for these people, and any prospects are dashed away as soon as they emerge. It's bleak, but without being in your face about it.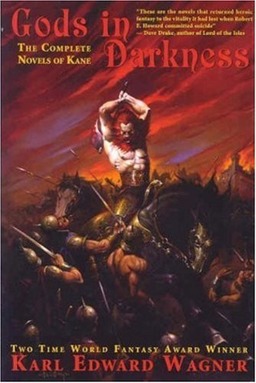 Oh yeah, and the prose, I have to mention the prose. It's perfect. It strikes the ideal balance between simple readability and beautiful description; it remains powerful and poignant without ever being pretentious or indigestible. It's rich, wonderful, fantastic, filled with those lines that make you feel all warm and giddy inside, in a chilling way, if that makes sense. It's like a Frank Frazetta painting given life, just… less sexist. No I don't know how you could take the sexism out of Frazetta. Shut up.
In the end, whatever criticism I can throw at Dark Crusade is negated, instantly, by its finale. Kane wrestles a polar bear. A polar bear. The only thing that could make it more awesome is if Brian Blessed wrenched the book from your hands and started reading it aloud in the most dramatic voice he can muster.
In all seriousness, though, the finale is certainly a highlight; it's at once imaginative, atmospheric, brooding, and grim, seamlessly blending looming existential horror with the riveting action the genre's famous for, and somehow, it makes it work. At some points, it skews even the reader's perceptions, making them question reality, making them doubt the scenarios they're presented with. It explores Kane's psyche and hints at his past.
It was written with an obvious degree of passion. One moment, you'll find yourself cheering as Kane downs a giant slug monster, and the next you'll cower under your bed sheets, a pool of urine slowly forming beneath you. It's fantastic, the perfect blend of action and horror and one of the things I'll point to when asked why I love sword and sorcery as much as I do.
[Spoilers ahead.]
If there's anything I can complain about here, it's how it feels stapled on to the end of the novel, how Wagner felt stuff had to get meta at some point. It feels like a Deus Ex Machina. A really, really cool Deus ex Machina, but a Deus Ex Machina nonetheless. The scenario itself is actually a battle with a huge celestial demon god thing. If Kane wins, he can supposedly open the way to any number of infinite universes, none of which are explored or given any development whatsoever. Kane's just dumped somewhere else in the world and that's it, no rocket ship volcanoes, or planet filled with giant talking flamethrowers made of sharks. Nope, nothing like that.
[End Spoilers.]
I know I've lobbed a lot of criticisms at Dark Crusade, but it's honestly the most fun I've had in a while, and it's certainly a novel I'll remember for some time to come. Those criticisms are, ultimately, just minuscule flaws on the face of a stonking great diamond.
Pick up your Kindle, go to the Amazon store, and buy this book so hard the Internet explodes. Now.