Future Treasures: Thrones & Bones: Frostborn by Lou Anders
Future Treasures: Thrones & Bones: Frostborn by Lou Anders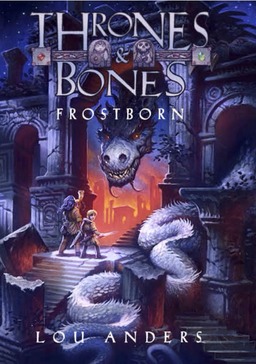 Lou Anders is the editorial director of Pyr Books, one of the most exciting publishers on the market for adventure fantasy fans. Last month, while talking about the latest upcoming title from Pyr, I described Lou as "the closest we have to Lin Carter in the field today: an editor with impeccable taste and boundless energy, who has also been a tireless champion for sword & sorcery."
Here's a secret: one of the reasons I described Lou as "tireless" is that — just like Lin Carter — he's also a talented fantasy writer in his own right. His debut novel Frostborn, an adventure-filled Viking-inspired middle grade series featuring two charming and humorous heroes, arrives in two months from Crown Books. Keep an eye out for it — you won't want to miss it.
Meet Karn. He is destined to take over the family farm in Norrøngard. His only problem? He'd rather be playing the board game Thrones and Bones. Enter Thianna. Half human, half frost giantess. She's too tall to blend in with other humans but too short to be taken seriously as a giant.

When family intrigues force Karn and Thianna to flee into the wilderness, they have to keep their sense of humor and their wits about them. But survival can be challenging when you're being chased by a 1,500-year-old dragon, Helltoppr the undead warrior and his undead minions, an evil uncle, wyverns, and an assortment of trolls and giants.

Readers will embark on a sweeping epic fantasy as they join Karn and Thianna on a voyage of discovery. Antics and hair-raising escapades abound in this fantasy adventure as the two forge a friendship and journey to unknown territory. Their plan: to save their families from harm.
Frostborn, the first book of Thrones & Bones, will be published by Crown Books on August 5, 2014. It is 310 pages, priced at $16.99 in hardcover and $10.99 for the digital version.