Vintage Treasures: Charles de Lint's Wolf Moon, and a Tale of Roving Booksellers
Vintage Treasures: Charles de Lint's Wolf Moon, and a Tale of Roving Booksellers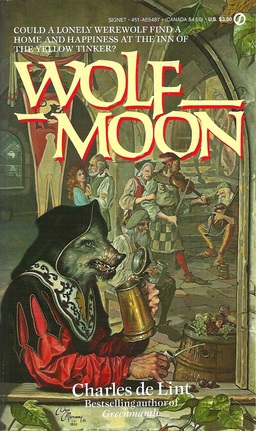 It pays to know excellent booksellers.
On Tuesday, Rich Warren, co-owner of Starfarer's Despatch, posted a pic of Charles de Lint's 1988 Signet paperback Wolf Moon on Facebook and later this brief review:
What a blast. Just finished this one this morning. A tale sympathetic to the Werewolf, and told from his point of view. I know there are De Lint fans who enjoy his urban fantasy (Newford) more but the great writing is still present in these older fantasies.
My comment was concise, but completely heartfelt: "I need this book! Rich, sell me one!"
I meant it, too. Wolf Moon was reprinted in 2004, with a generic urban fantasy cover, but the 1988 paperback original, which boasts a fabulous cover by Dean Morrissey, showing a werewolf relaxing in The Inn of the Yellow Tinker, is much harder to come by.
Three days later, I returned from my business trip to Las Vegas. I drove straight from the airport to the Westin hotel in Lombard, Illinois, and arrived shortly before the Dealer's Room closed at Windy City Pulp and Paper, one of my favorite local cons (the write-up I did on last year's is here). I wasn't in the room five minutes before I heard a friendly voice calling my name: Arin Komins, Rich's wife and the other half of the splendid enterprise that is Starfarer's Despatch.
"We have a book for you," Arin said. We found Rich and, sure enough, he pulled a beautiful, unread copy of Wolf Moon out of his backpack.
I was stunned. "What, you've just been carrying around a copy all week, on the off-chance you'd run into me?" They just laughed and told me they figured the odds of seeing me at Windy City were good. "But I don't want to buy your only copy, especially if you really liked it," I objected.
But Rich waved that off. "I have a few in stock."
The price for this hard-to-find, pristine, 26-year old paperback, hand-delivered to me by roving booksellers? $3 — less than the original cover price.
I'm sure I don't need to belabor the point here, but this is why it pays to support small, independent booksellers. Perhaps your local bookshop doesn't provide the extraordinary service Starfarer's Despatch does, but I'm sure they're wonderful in their own way. Believe me, it's worth your while to help keep them in business. And if you'd like to experience the magic of Starfarer's Despatch for yourself, they do a brisk business online. I can't promise you'll get all your books hand-delivered (especially if you don't live near Chicago), but I can promise you'll thank me later.
Wolf Moon was published by Signet in August, 1988. It is 252 pages in paperback, originally priced at $3.50. The cover is by Dean Morrissey. I bought my copy for $3 and it is gorgeous — click on the image to see it up close.