1939 Retro Hugo Award Nominees Announced
1939 Retro Hugo Award Nominees Announced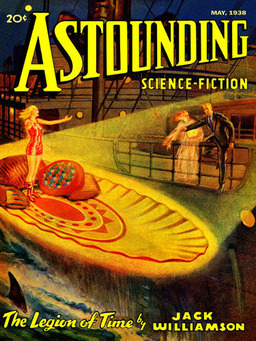 The Hugos have become science fiction's more recognizable award, ever since they were first presented in 1953 at the 11th World Science Fiction Convention in Philadelphia. In the decades since though, there's been plenty of speculation in fan circles about classic SF published before 1953.
"Oh, Jack Vance's The Dying Earth would have win the Hugo Award hands down back in 1951."
"Are you kidding? The Lion, the Witch and the Wardrobe was published that same year — it would have been the easy victor."
"You're both crazy. The most popular SF release in 1951  was E.E. "Doc" Smith's First Lensman, no question."
"Wait a minute — what about Asimov's Pebble in the Sky? It came out that same year!"
If there's one thing fans like to do more than argue, it's to prove they're right. So in 1996, the First Retro Hugo Awards were given out, for SF first published in 1946. Retro Hugos have only been awarded twice since: in 2001 (for 1951) and in 2004 (for 1954). And for the record, the winner of the Retro Hugo Award for Best Novel in 1951 was Robert A. Heinlein's Farmer in the Sky.
Loncon 3 has announced that it will present Retro Hugos this year, for work first published 75 years ago. Here's part of the introduction to the award from the Loncon 3 Hugo Award Administrator:
1939 was an auspicious year among science fiction enthusiasts. On  2 July roughly 200 of them got together in New York City to hold the World  Science Fiction Convention… As host of the 2014 Worldcon, Loncon 3 will be hosting the Hugo Awards for the best work in 2013. As Loncon 3 marks  the 75th anniversary of that first convention in 1939, we will also be hosting  a Retrospective Hugo Award process for the best work of 1938.
The Retro-Hugos will use the same rules and categories as the  current awards. There will be parallel nominating and voting processes. The  eligibility for nomination and voting is identical – if you can nominate or  vote for the 2014 awards, you can nominate or vote for the 1939 awards.

These awards will celebrate the  science fiction that attendees would have known at the time of the very first  Worldcon, held in New York 75 years before Loncon 3. You  may have a concern that you're not fully aware of the eligible works for 1938, and  Loncon 3 wants  to make sure that nominators have access to relevant information across the  categories. At the 2013 Worldcon we therefore published a booklet containing articles intended to provide a sample of the eligible people and works for the year. A version of that initial booklet, with longer versions of some articles than we were able to include in the printed publication, is available for download here.
Here is the complete ballot for the 1939 Retro Hugo Awards.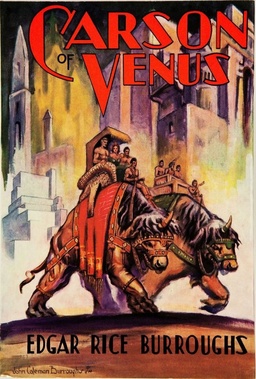 Best Novel
Carson of Venus, Edgar Rice Burroughs (Argosy 1/8/38 – 2/12/38)
Out of the Silent Planet, C.S. Lewis (The Bodley Head)
Galactic Patrol, E.E. Smith, Ph.D. (Astounding Stories 9/37 – 2/38)
The Sword in the Stone, T.H. White (Collins)
The Legion of Time, Jack Williamson (Astounding Science-Fiction 5-7/38)
Best Novella
''Who Goes There?'' John W. Campbell (Astounding Science-Fiction 8/38)
''A Matter of Form'' H.L. Gold (Astounding Science-Fiction 12/38)
''The Time Trap" Henry Kuttner (Marvel Science Stories 11/38)
Anthem, Ayn Rand (Cassell)
''Sleepers of Mars'' John Wyndham  (Tales of Wonder 3/38)
 Best Novelette
''Dead Knowledge'' John W. Campbell  (Astounding Stories 1/38)
''Pigeons From Hell'' Robert E. Howard (Weird Tales 5/38)
''Hollywood on the Moon'' Henry Kuttner (Thrilling Wonder Stories 4/38)
''Werewoman'' C.L. Moore (Leaves #2 Winter '38)
''Rule 18'' Clifford D. Simak (Astounding Science-Fiction 7/38)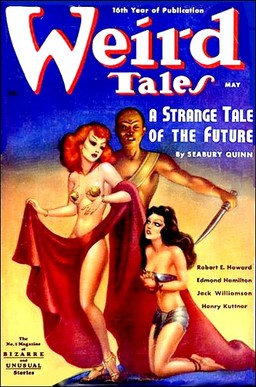 Best Short Story
''Hollerbochen's Dilemma'' Ray Bradbury (Imagination! 1/38)
''How We Went to Mars'' Arthur C. Clarke (Amateur Science Stories 3/38)
''Hyperpilosity'' L. Sprague de Camp (Astounding Science-Fiction 4/38)
''The Faithful'' Lester del Rey (Astounding Science-Fiction 4/38)
''Helen O'Loy'' Lester del Rey (Astounding Science-Fiction 12/38)
Best Dramatic Presentation
Around the World in Eighty Days
A Christmas Carol
Dracula
R.U.R.
The War of the Worlds
Best Professional Editor Short Form
John W. Campbell
Walter H. Gillings
Raymond A. Palmer
Mort Weisinger
Farnsworth Wright
Best Professional Artist
Margaret Brundage
Virgil Finlay
Frank R. Paul
Alex Schomburg
H.W. Wesso
 Best Fanzine
Fantascience Digest
Fantasy News
Imagination!
Novae Terrae
Tomorrow
Best Fan Writer
Forrest J Ackerman
Ray Bradbury
Arthur Wilson ''Bob'' Tucker
Harry Warner, Jr.
Donald A. Wollheim
The winners of the 1939 Retro Hugo Awards  will be announced at LonCon 3, the 72nd World Science Fiction Convention, to be held in London, England, August 14- 18, 2014.