Black Gate to Publish Online Fiction Starting Sunday, September 30
Black Gate to Publish Online Fiction Starting Sunday, September 30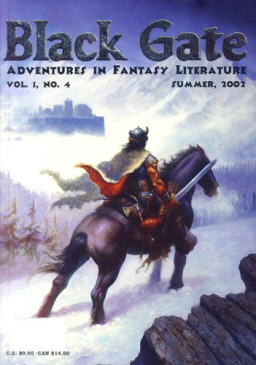 We are very pleased to announce that Black Gate magazine, your home for the finest in adventure fantasy, will begin publishing original online fiction starting Sunday, September 30.
Holy crap, that's tomorrow.
Wow. Uh, well, into the breach. Best way to do this is to jump right in, and figure it out as we go.
New fiction will be published right here on our website every Sunday, starting tomorrow. Here's what's coming in the next two months:
"The Duelist," by Jason Thummel
"The Quintessence of Absence," by Sean McLachlan
"The Daughter's Dowry," by Aaron Bradford Starr
"A Phoenix in Darkness," by Donald S. Crankshaw
Novel excerpt: Queen of Thorns, by Dave Gross
"Godmother Lizard," by C.S.E. Cooney
"The Poison Well" by Judith Berman
Novel excerpt: Bones of the Old Ones, by Howard Andrew Jones
Novel excerpt: The Black Fire Concerto, by Mike Allen
What can you expect from online fiction at Black Gate? We will be presenting original fiction from some of our most popular contributors, as well as exciting new authors and many of the best writers in the industry. All stories are presented completely free of charge.
We will be offering fiction at all lengths, including short stories, novellas, and novel excerpts. It's just like reading an issue of Black Gate, except you can do it from the comfort of your couch. Or that uncomfortable chair in front of the computer, whatever.
Join us tomorrow as Jason Thummel brings us a riveting tale of a talented swordsman who finds himself caught up in a web of deceit and far-reaching ambition in a fast-paced tale of action in a violent city, "The Duelist."