Knights of the Dinner Table: The Java Joint Strips
Knights of the Dinner Table: The Java Joint Strips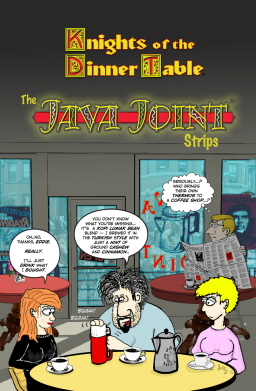 Years ago, before I started Black Gate magazine, I worked with David Kenzer in the Commerce Drive offices of Motorola here in Chicago. Dave is the founder of Kenzer & Company, publishers of the award-winning Hackmaster role playing game and Jolly Blackburn's brilliant Knights of the Dinner Table comic.
KenzerCo was the first investor in Black Gate, and without Dave's early advice and guidance I never could have gotten off the ground. But perhaps the most important contribution he made to our success was his offer to include an original Knights of the Dinner Table strip in every issue. It was an incredible gesture of faith in my fledgling enterprise, and it helped bring my new magazine to the attention of thousands of gaming fans. Brian Jelke at KenzerCo wrote a proposal for a strip centered around a coffee shop, Steve Johansson signed on to do the art, and The Java Joint was born. It has appeared in virtually every issue of Black Gate, and in July of last year KenzerCo packaged up all the stories — together with a brand new 8-page strip — in Knights of the Dinner Table: The Java Joint Strips, published in print and PDF format.
I've written about my days with Dave at Commerce Drive, the multi-million dollar software deals and creative projects we did together, a few times now, including in  "How To Succeed in Business," my editorial for Black Gate 11, and in my portion of the Tribute to Gary Gygax here on the blog in 2008. In my introduction to this new collection I tell the full story of our adventures together for the first time.
Concerning the comic, James Lynch at The Armchair Critic had this to say in his review:
Knights of the Dinner Table is primarily a bunch of buddies sitting at a table and playing games — but what happens when several of them sit around a table and talk about books? This is the premise and setting of Java Joint… Most strips have the trio sitting around and discussing (or trying to discuss) a fantasy book; there are a few exceptions, as when Eddie enters into extended dealings with a Nigerian internet scam, or when he confronts Neil Gaiman about stealing all the ideas Eddie wrote in a notebook in seventh grade that got lost at "Sister Eileen's Discount Summer Camp for Laconic Youth."

As with the Knights of the Dinner Table comic, this is about the dialogue… this is often very funny. Most of the humor comes from Eddie who, like Cartman on South Park, is a character you seldom agree with but usually laugh at. He has a resistance to anything out of the ordinary ("So what you're saying is… reading books I don't like will get me women?"), loves a Danielle Steel novel after imagining the main character as a vampire, and bemoans the supernatural in romance novels. ("Publishing today is all about getting hot and heavy with the unholy.")…

The Java Joint has plenty of laughs — and a surprisingly touching final story. This is an enjoyable little comic book collection that's a nice read for anyone who likes discussing books — even with that one person who always manages to go off in a bizarre direction.
Knights of the Dinner Table: The Java Joint Strips is 64 pages in comic format. The print version is nearly sold out, but you can buy the PDF for $9.99 directly from Kenzer & Company.