Myke Cole's Shadow Ops: Control Point On Sale Next Week
Myke Cole's Shadow Ops: Control Point On Sale Next Week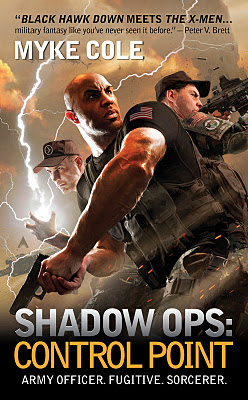 Myke Cole's "Naktong Flow," the tale of a desperate battle in the final stages of an apocalyptic war, was one of the most well-received pieces in Black Gate 13. Brent Knowles praised it as "The kind of story that immerses you in a world… this story is strong, with an interesting protagonist. Great!", and Tangent Online labeled it one of the best stories of the year:
Myke Cole's prose in "Naktong Flow" is smooth, evocative, and thoroughly professional. Some years ago he won the Writers of the Future contest, and it shows. "Naktong Flow" is set in the forest-jungles of the Far East, and follows Ch'oe, his men, their ancestor-magician, and a strange, magically-imbued wooden machine as they travel up the Naktong river in pursuit of the less-than-human creatures named the bonesetters… Think Martin Sheen in Apocalypse Now and you're on the right track.
A writer with that much promise generates a lot of expectation, and we've been waiting impatiently for Myke's first novel for some time. Now the wait is finally over as Ace releases Shadow Ops: Control Point in paperback next week. I asked Myke to tell us a bit about the book, and here's what he shared:
It's ironic that mashups seem so popular lately, since I'm kind of a mashup myself. I'm a warrior-nerd blend of a military officer and committed fantasy/SF geek. I'm fortunate enough to make my living in both camps and those influences greatly inform my writing. My new novel Control Point is a fusion of influences: 3 tours in Iraq and a life spent perusing the fantasy mass-market wire racks and comic book shop display stands.
Here's the official book blurb:
Across the country and in every nation, people are waking up with magical talents. Untrained and panicked, they summon storms, raise the dead, and set everything they touch ablaze.

Army officer Oscar Britton sees the worst of it. A lieutenant attached to the military's Supernatural Operations Corps, his mission is to bring order to a world gone mad. Then he abruptly manifests a rare and prohibited magical power, transforming him overnight from government agent to public enemy number one.

The SOC knows how to handle this kind of situation: hunt him down — and take him out. Driven into an underground shadow world, Britton is about to learn that magic has changed all the rules he's ever known, and that his life isn't the only thing he's fighting for.
I've been enjoying my early copy — the book opens with a bang, and doesn't let up. It's advertised as part of a new series, and is available in mass market paperback and Kindle format for $7.99 on Tuesday.