New Treasures: Shadow Ops: Breach Zone by Myke Cole
New Treasures: Shadow Ops: Breach Zone by Myke Cole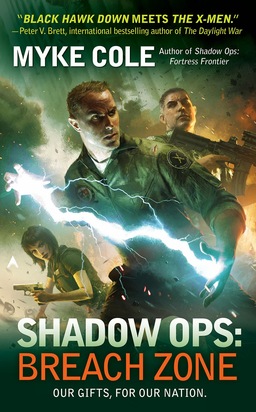 Apparently, Myke Cole never gets tired of being awesome. He wrote the awesome short story "Naktong Flow" for Black Gate 13 and all that awesome spilled over into his first novel Shadow Ops: Control Point, which Peter V. Brett called "Black Hawk Down meets the X-Men." He was awesome when our roving reporter Patty Templeton interviewed him (totally awesome!), and in his essay "Selling Shadow Point," which busted open a lot of myths about publishing your first fantasy novel. His second book Shadow Ops: Fortress Frontier was, guess what, awesome, and he was even awesome last month at ConFusion (according to Howard Andrew Jones, who knows all about being awesome.)
Now here he is with his third novel, Shadow Ops: Breach Zone. And it's awesome. Next time you run into Myke, do yourself a favor and ask how you, too, can become awesome.  On top of everything else, Myke's a very gracious guy and I'm sure he'll give you some pointers. And I bet they'll be awesome.
The Great Reawakening did not come quietly. Across the country and in every nation, people began "coming up Latent," developing terrifying powers — summoning storms, raising the dead, and setting everything they touch ablaze. Those who Manifest must choose: become a sheepdog who protects the flock or a wolf who devours it…

In the wake of a bloody battle at Forward Operating Base Frontier and a scandalous presidential impeachment, Lieutenant Colonel Jan Thorsson, call sign "Harlequin," becomes a national hero and a pariah to the military that is the only family he's ever known.

In the fight for Latent equality, Oscar Britton is positioned to lead a rebellion in exile, but a powerful rival beats him to the punch: Scylla, a walking weapon who will stop at nothing to end the human-sanctioned apartheid against her kind.

When Scylla's inhuman forces invade New York City, the Supernatural Operations Corps are the only soldiers equipped to prevent a massacre. In order to redeem himself with the military, Harlequin will be forced to face off with this havoc-wreaking woman from his past, warped by her power into something evil…
Shadow Ops: Breach Zone is the third novel in the Shadow Ops series. It was published on January 28, 2014 by Ace Books. It is 370 pages, priced at $7.99 for both the paperback and digital versions.