Art of the Genre: Maps and World-Building
Art of the Genre: Maps and World-Building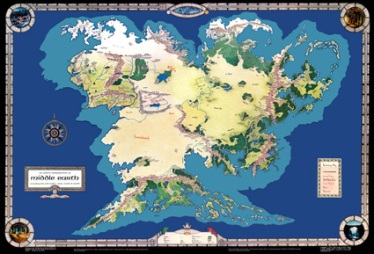 Way back in the day, I remember collecting I.C.E.'s Middle-Earth Role-Playing Game. If anyone ever bought those initial MERP supplements, they know that I.C.E. put a photo collection of what products were available on the back [much like TSR listed their products series on the backs of their early modules]. I was young, probably thirteen of fourteen at the time, and didn't have much money, but I went out and collected everything represented on the back except three things, two of which were the campaign modules, Umbar Haven of the Corsairs and The Court of Ardor in Southern Middle Earth. Both were VERY early in the production line, probably out of print before I even started collecting, and the final piece was the MERP map set. Years later, I managed to purchase both Umbar and Ardor [actually my wife bought me Ardor after my first professional sale], but even though I've studied the image on that back cover a hundred times, and longed for the map beneath, I've never laid hands on a copy. The concept of that map laid the groundwork for my love of cartography and maps in general.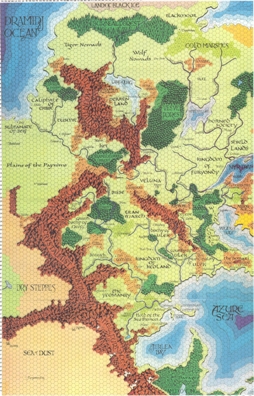 Middle-Earth, as laid out in wonderful topographical detail, was a prime example of how important maps were to a fantasy world, all other books from time-periods after sported some kind of black and white map, and if a book today doesn't have one it is considered terribly lacking.
Although I never acquired that MERP map [but if anyone wants to send me a copy, feel free], I did manage to purchase the World of Greyhawk boxed set from TSR that include not one but two huge folding glossy maps of that fantastic world. I'm pretty sure my initial reaction was to freak out and dance around the room, the thought that there was an entire world before me ready for adventure made my life as a gamer so much more real. Up to that point my adventures were all bound to some tiny place, a point of clarity, probably a dungeon, set in a sea of shrouded mist that didn't allow my imagination true freedom of movement.
I devoured World of Greyhawk, even going so far as to conquer one of the kingdoms as my own [The Tiger Nomads] and drew fortresses, borders, outposts, and such all over my kingdom on the actual map. In fact, I used the map so much, all the folded edges ripped apart and I eventually had to make the hard decision to scrap it [so if anyone wants to send me a copy, feel free].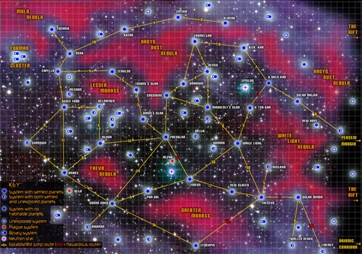 Another TSR gaming system, Star Frontiers, had released Zebulan's Guide to Frontier Space in 1985, and that was my first real delve into star maps [not to be confused with those peddled on the corners of L.A. proper for the houses of Brangelina]. The worlds of the United Planetary Federation were shown with transit connection lines behind a kind of nebula backdrop of starstuff, but I couldn't bring myself to be overly excited about it, something too abstract in the concept as it related to more colorful earthly topography I guess. Don't get me wrong, I'm terribly moved by space pictures, like from Hubble, but star maps… eh, not so much.
Anyway, by the time I'd finished with Greyhawk, a new world was taking shape at TSR, that being Ed Greenwood's personal campaign setting The Forgotten Realms. The Realms boxed set, much like that of WoG, had two huge maps, these however weren't glossy or pre-printed with movement hexes, instead offering clear plastic sheets that could be used when needed to estimate travel time.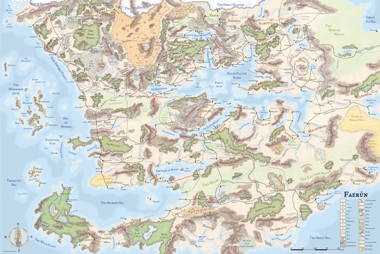 The world was lovely, new, and seemingly grittier than Greyhawk. I well remember the first time I saw the box, over in Mark's living room where his older brother Greg came back from college and told stories of Waterdeep and the North. It was a 'must own', and I purchased and played FR with all the passion I could muster in those later days of the grand old eighties. Another interesting note concerning those 1st print FR maps, they DON'T include Icewind Dale, the famed setting for the creation of Drizzt Do'urden by R.A. Salvatore. Newer versions do include this far northwestern outpost, but not the originals, so all those collectors out there, please keep that in mind.
By this time [around 1988], I was finally world-building on my own. My friend Murph asked one day if we could play something 'different', both of us being old Basic gamers, Dragonlance lovers, and he hadn't particularly enjoyed the FR because of a nasty joke I played on him concerning demons when he first discovered the world. Note: This joke was the first time I had a player get up, collect their things, and leave without a word. It was not, however, the last.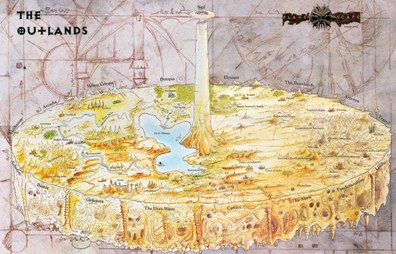 To this end, I took a piece of spiral-bound and three-hole punched notebook paper and drew an outline of a continent. This, my dear friends, is the place where DM's are born, the magical moment when you cease to be a consumer and start becoming a creator. I'd just gone off the reservation, and everything cool I'd ever read about or seen on TV got poured into a world that was so important to me I couldn't come up with a name good enough to represent it.
For the purpose of pure identification, I dubbed my creation, The Realm with No Name, and Murph and I started a journey in world development that continues today. I also think that such creation is the fundamental principle in being a writer, because at their core writers create, and they must have a world from which to expand their ideas and stories.
By 1990, I'd filled in my entire continent outline for the The Realm with No Name and was forced to produce a second sheet of paper that detailed lands further to the west. In essence, I doubled my world, and gaming continued unabated as these new lands were explored.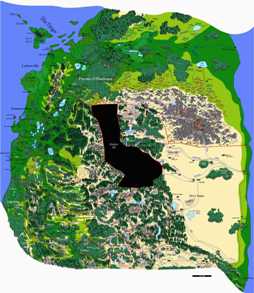 Outside my own world, the pre-made games of the 90s brought several more boxed sets from TSR, namely Dark Sun, Planescape, and Ravenloft, all of whom had very nice world maps, or in the case of Planescape visual charts for the outlands and planes of the multiverse. You also saw in Ravenloft a great map of 'The Core', and if you like later additions, you should see that world's most impressive feature called The Shadow Rift. Gads, even the unyielding explorer in me has absolutely no desire to venture there!
By the end of that decade, however, the need for boxed sets, and the maps included in them, had dwindled as everything went to hardcover core books. These were great reads, had fantastic color art, glossy pages, and everything a player could want, but the maps weren't overly fantastic. Sean K. Reynold's masterwork, Forgotten Realms 3E, did have a nice FR map craftily attached inside the back cover and perforated for easy removal, but most game companies simply printed a map inside someplace and left it at that.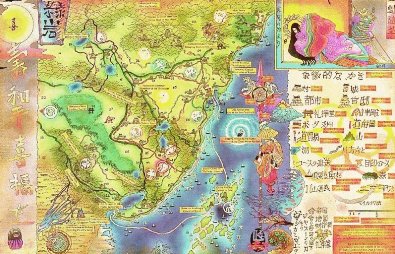 I did some very, very, extensive playing of AEG's Legend of the Five Rings during that period, but no detachable map was ever provided that I'm aware of, although I did find an outstanding Rokugan map on the Internet, and that seems to be a place most maps are now kept. It's a nice solution, but to me, much like the concepts of ebooks, there's just something innately 'good' about the tactile experience of rolling a huge map out across a table and running a finger over its surface.
I think it must be a throwback to a time when maps weren't found on your iPhone, when you kept them [misfolded of course] in the glove-box of your car like some ancient explorer. If I had the wall space, which I don't, I'd love to frame some of these bad-boys and just hang them around for inspiration. How can't you get worked up looking at a map that's seemingly ready for adventure?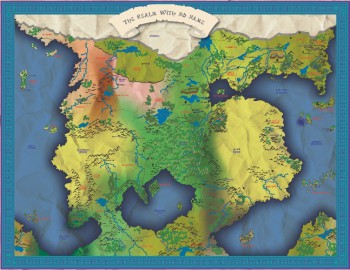 Alas, maps today don't seem to be what they once were, but if you're wondering whatever happened to The Realm with No Name as the decades passed, I'll humor you [or me which is probably more likely]. Well, it eventually became apparent that I'd never come up with a cool name for it, and as my players continued to explore, the 'nameless name' kind of stuck. Today, I call the place The Nameless Realms, and it eventually expanded to eight sheets of scotch-taped notebook paper before a graphic-designer friend of mine had enough of that and said he'd built it in his computer.
For those of you interested, I'll share my world map, which I have a huge physical copy of that I tote around in a tube poster protector and often get funny looks from security at airports. As I thought about this article, I ended up contacting some artist friends to find out if they too had created worlds of their own when they gamed. Indeed, each had, and I think my favorite was Todd Lockwood who [and yes, I'd have killed to play in his 1E group] had designed a Larry Niven like ringworld that his players spent the better part of two decades exploring. He also indicated that they only got about two-thirds of the way through the thing, which speaks volumes as to its size. I say bravo Todd, and to all of you who've taken out a pen or colored pencils and created something all your own. Maps are the key to unlocking the adventure, and I applaud anyone willing to help in that cause and expand on it in physical form.