Walk a Mile in My Paws: The Valley of Creation by Edmond Hamilton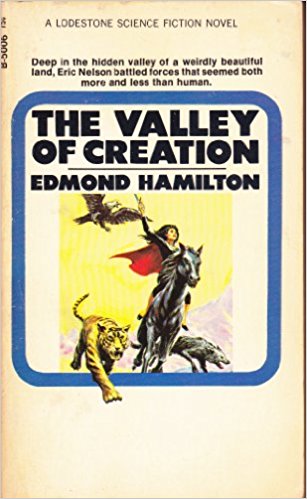 What I've learned from my still inadequate reading of pulp science-fiction legend Edmond Hamilton is his mastery of pushing his stories in expected directions but in unexpected ways. I've developed enough of a sense of how Hamilton viewed his characters and his attitude toward humanity that I can anticipate the direction he'll flip a tale in the middle — but I'll never anticipate how he'll do it. Almost every time, he exceeds expectations by taking the most daring path, both for his narrative and his prose.
The 1948 novel The Valley of Creation follows a theme the author explored in his cliché-battering short story "A Conquest of Two Worlds" (Wonder Stories, 1932), where a human turns against the colonial tyranny of his own race to side with oppressed aliens. Hamilton often used a cynical, bleak approach in his short fiction, turning to a lighter adventure mode for his novels. The Valley of Creation falls into this pattern. It challenges readers with a protagonist who discovers he's on the wrong side of a conflict — the side of racial supremacists — and switches allegiance. But it's done as a science-fantasy adventure with the zip expected of the pulps and a heavy dose of A. Merritt's "Lost World of Super Science!" explorations.
The Valley of Creation was published in Startling Stories for the July 1948 issue, sharing a table of contents with stories from Jack Vance and Henry Kuttner. Lancer published the paperback version in 1964, a time when the paperback market was mining for the gold spread throughout the pulp era that might otherwise have flaked away with the rough paper. Hamilton did revisions for the '64 version, updating the timeline so its protagonist, mercenary Eric Nelson, is a veteran of the Korean War.
At the opening of the novel, Nelson is in the position of many characters from noir movies and books of the late '40 and '50s: a disaffected military man who's seen too much and has now lost his way. Nelson and his four mercenary partners are stranded in Central Asia at the end of their tether after their Chinese warlord employer is killed. They then receive a strange offer from a man named Shan Kar — he'll pay them in platinum if they come to his valley of L'Lan and fight "the enemy of his people."