Space Gods: From Tin Foil Hats to Marvel's Eternals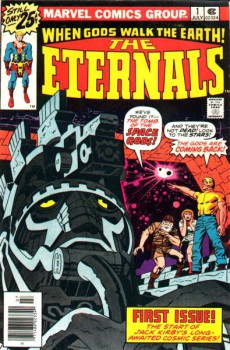 In 1968, around the time that 2001: A Space Odyssey was in theaters, booksellers had Chariots of the Gods? Unsolved Mysteries of the Past, by Erich Von Daniken. It was such a big seller that I had no trouble acquiring a second-hand copy for 25 cents in the mid-1980s, and even as a thirteen-year old, I couldn't make it more than a few pages into its soft-headed nonsense.
Von Daniken's thesis of course was that the pyramids, Stonehenge, the Nazca Lines, and so on were beyond the abilities of previous civilizations, and required visiting space visitors to explain their existence.
Part of Von Daniken's "evidence" is that the artistic styles we see in previous civilizations are better explained as ancient peoples depicting the space suits of their alien visitors. Big toke time.