The Three Phases of Marvel's Adam Warlock: Last Half of Part Two – The Thanos Arc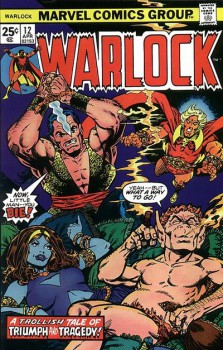 Adam Warlock was one of those brooding, tragic, lonely heroes I gravitated to as a thirteen-year old, along with Dr. Strange and Son-of-Satan and the oddball Defenders. I've broken up Warlock's chronology into the three phases. I covered the first, the pre-Jim Starlin era, in my first post. I covered the first half of Jim Starlin's 1975-1977 run, the Magus saga, in my second post.
Today, I'll discuss the last half of Starlin's run in the 1970s, where Thanos plays the big heavy. As always, this post is nothing but spoilers, so read it with your eyes closed if you still haven't read Warlock. If you'd prefer to read the comics first, they're all available at comixology.com; today's Adam story covers Warlock 12-15, Marvel Team-Up 55, Avengers Annual 7 and Marvel Two-in-One Annual 2.
So, although Thanos helped Adam Warlock killed his future evil self in Warlock 11, he doesn't come back immediately. Thanos is the Titan with a plan, and so Starlin takes a couple of episodic detours.
First, Pip the Troll, the moral degenerate who is Adam's only friend, avoids arrest by trying to spring a prostitute from her pimp. Hilarity and tongue-in-cheek ensue. I've never been a Pip fan, but I get how Adam's unique and tragic fate means he gets to have one friend in life (one and a half if you count Gamorra).
Then Adam fights the Star-Thief, another original and surreal creation of Starlin's. A man born on Earth, with a functioning brain but bereft of the five senses, the Star-Thief is completely trapped in his mind. With nothing else, he explores the inner parts of his brain, gaining tremendous power and a grudge against humanity that makes him want to extinguish the stars.