Fright: The Forgotten Dracula Comic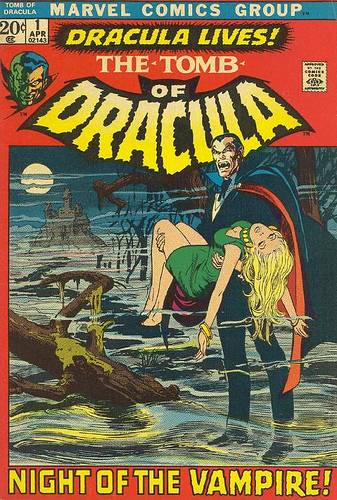 Most comic fans are aware that while the Marvel Age of Comics may have begun with the 1961 publication of the first issue of The Fantastic Four, the imprint actually began in 1939 when Timely Comics published the first issue of Marvel Comics with the Golden Age Human Torch on the cover. In the 1950's, Timely Comics became Atlas Comics who continued to publish Cold War adventures of Timely's Golden Age favorites as well as horror anthology titles and westerns. Far fewer comic fans recall that Atlas Comics was briefly revived in the mid-seventies as a rival to Marvel under the auspices of estranged family members of Marvel's publisher and editor-in-chief. They stole Marvel talent and did their best to give the industry giant a real run for its money.
At the time, Marvel had taken advantage of the loosening of the Comics Code Authority and produced the award-winning horror title, The Tomb of Dracula. The dark look and tone of the book combined with the consistently strong scripting by Marv Wolfman and stunning art work by Gene Colan (inked by Tom Palmer) made the 70-issue run of the original series one of the biggest artistic and commercial success stories of the decade. While Marvel has never quite managed to bottle lightning with the title a second time, revivals are frequent while sales of reprints remain strong nearly forty years after the fact. While the book was busy collecting industry awards for the exceptional talent of its creators and the level of maturity they brought to the title, the newly-revived Atlas Comics prepared their answer in the form of the first and (as it turned out) only issue of Fright featuring The Son of Dracula in the spring of 1975.