The Dark Net, Encryption Keys, and Lethal Secrets: The Silence of Six by E. C. Myers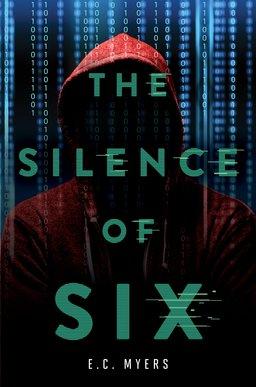 The Silence of Six
E. C. Myers
Adaptive Books (368 pages, November 5, 2014, $17.99 in hardcover)
When we meet Max Stein, he and his friends are attending a presidential debate hosted at their high school. This isn't just any debate — the candidates are there to discuss education and internet regulations, both of which are topics of great concern to the youth of America. To highlight this, the moderator fields questions posted through Panjea, a popular social network. As the debate is about to begin, Max gets a text from an anonymous number: a passcode several digits long from a person who identifies himself as STOP.
Max instantly knows STOP's identity: Evan Baxter, his best friend and fellow hacker. Moments later, Evan — wearing a hood and masking his voice — hacks into the debate's live feed and posts a live video question: "What is the silence of six, and what are you going to do about it?" Then, horribly, Evan kills himself with a gun on camera.
Max is devastated. While he and Evan had grown apart over the past several months — Max had left the hacking world behind to pursue soccer and girls and popularity — he still considers Evan his best friend. He knows Evan wouldn't have committed such a heinous, irreversible act without a good reason; he also knows the passcode that Evan gave him is the key that will unlock everything.
With no one to trust and the Feds on his tail, Max goes on the run in search of what Evan knew. His discovery will change how the world views social media forever. That is, if he can make it public before he becomes the seventh person silenced…