Kickstarting Cosmic Fantasy: The Chronicles of Future Earth RPG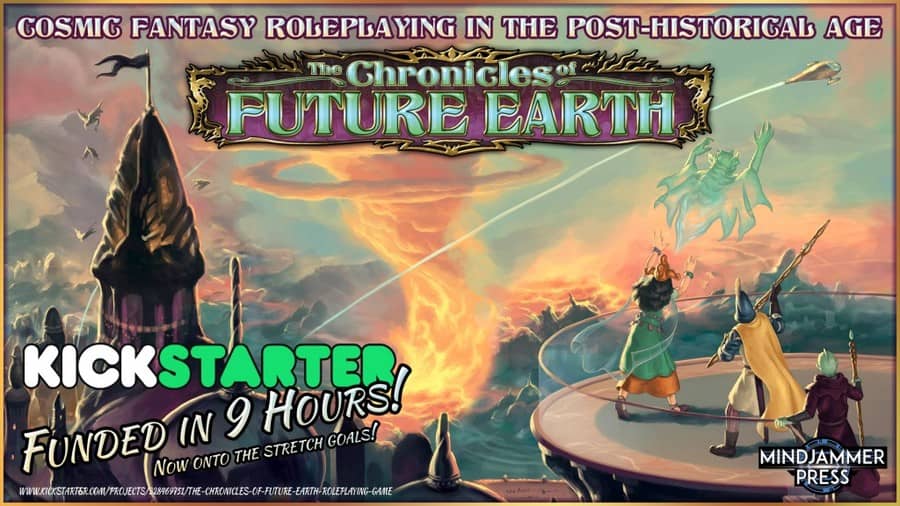 In the last centuries of the Fifth Cycliad, a great malaise began to descend on the lands of humankind. The civilizations of the Earth, which for aeons had seemed on the verge of slumber, now finally began to rot from within. From the edges of the world, the ever-present enemies drew close, their hungry claws poised to tear apart the delicate flesh of a fruit a hundred millennia in the ripening. And all around, a cry arose for Heroes, to stand against the dying of the light, and save the world from the sins of its past.
Are you a fan of Clark Ashton Smith's Zothique? Of Gene Wolfe's Book of the New Sun? M. John Harrison's The Pastel City? Do you yearn for a roleplaying game that exudes the vibe of Bruce Pennington's gorgeous artwork? Then look no further — The Chronicles of Future Earth is here.
On Friday 28 September, Mindjammer Press launched its new Kickstarter for The Chronicles of Future Earth — Cosmic Fantasy Roleplaying in the Post-Historical Age. I'm Sarah Newton, the author of the game, which in some ways is the fantasy counterpart to my transhuman science-fiction roleplaying game Mindjammer. We funded the project in a little under 9 hours, and have been unlocking stretch goals since; as of this moment (Friday 5 October), we've raised just under £20,000 (appx $27,000), and have unlocked a Player Character Folio and GM adventure to add to the "Chronicler Pack" which forms the core of our offering: a gorgeous full-colour hardback rulebook, a GM screen, dice, tokens, and an A2 map of the "Springtide Civilization" — the world of the earth of the far, far future where the game takes place.