Favorite Fantasy Films of 2010
While fantasy on television has suffered a bit over the last couple of years, films are doing better than ever. Animated films, especially, seem really able to grasp the complex worlds of fantasy. Looking over a list of 2010 films, some real highlights come to mind. What's amazing is that the films oriented toward adult audiences, such as Clash of the Titans and Alice in Wonderland (both reviewed in the upcoming Black Gate #15), were almost entirely underwhelming, while the young adult films contained some surprising (and not-so-surprising) gems. I previously spoke about Scott Pilgrim vs. the World (along with compelling follow-up commentary by Magille Foote), so I'll focus on some other films from the year.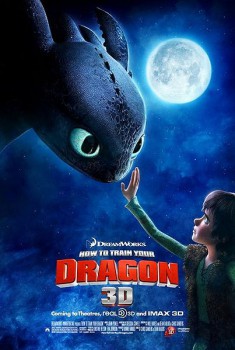 How to Train Your Dragon
Hands down, of the fantasy films I've seen this year, my favorite was the unexpectedly charming How to Train Your Dragon. Any film with vikings and dragons guarantees to entertain, but I did not anticipate that this film would tug at the heartstrings quite as much as it does.
The main character, Hiccup, is the scrawny young son of a Viking chieftain who decides that rather than killing a wounded dragon, he will instead befriend it. Out of this strange new friendship he calls into question everything he's ever known about the Viking way of life … and about a threat that's even more deadly than the dragons they've encountered in the past.
It's really a wonderful coming-of-age story about standing up for your principles even when it's difficult, when everyone around you believes that you're not only wrong, but outright foolish.