Get a Free Pathfinder Tales Audiobook (if you act before Feb. 16)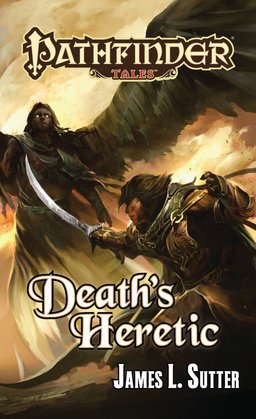 Of all the books I've reviewed for Black Gate, definitely two of my favorites have been the Pathfinder Tales novels by James L. Sutter, Death's Heretic and The Redemption Engine. I'm not alone, of course. There's no shortage of Pathfinder Tales fans (or authors) hanging out around the Black Gate headquarters, and James Sutter is a friend of the website.
In fact, the enthusiasm is so great that I have a large backlog of Pathfinder Tales books that I haven't gotten to read yet. These days, a decent chunk of my reading comes from listening to audiobooks while performing other tasks. I use Audible.com, but the Pathfinder Tales novels hadn't offered audiobooks unfortunately. That changed with their announcement last October about a partnership with Audible Audiobooks to produce the audiobooks, not only for their newly-released titles but for their backlog of audiobooks as well.
To celebrate the Pathfinder Tales audiobooks, Audible.com is offering the Death's Heretic audiobook for free through February 16. Once you purchase the book, it'll remain in your digital library to access at any time, which you can do on apps available through iOS, Android, Windows, Mac, and online web formats. So, really, there's little excuse for not signing up to get the book.
And if that's not enough to keep you busy…