Modular: Pathfinder Planar Adventures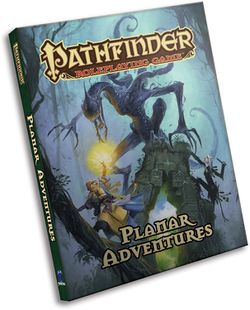 For as long as it has existed, Dungeons & Dragons (and its spin-off game, Pathfinder) have not been about a single world, but a multiverse of different worlds and dimensions. The entities that exist within these realms can be good or evil, or sometimes merely strange and exotic. But regardless of their precise nature, they are distinctly other than us, because these different realms and dimensions are governed by rules different than event he fantasy rules that govern the main adventuring worlds.
As Pathfinder First Edition begins slowing down its cycle of new rules releases, paving the way for the upcoming Pathfinder Playtest starting at GenCon and, ultimately, the release of Pathfinder Second Edition at GenCon 2019, it's good to see that their final First Edition hardcover rulebook release, Planar Adventures  (Paizo, Amazon), provides a mix of setting material that will be broadly applicable to any game set within the multiverse that contains the Pathfinder world of Golarion.
Following a general tradition within Pathfinder rulebooks, the first chapter focuses on characters. There are a dozen new planar-related archetypes, such as the Azatariel (Swashbuckler champions of Elysium), the Gloomblade (a Shadow Plane-influenced Fighter), and Progenitors (Druids with powerful bonds to the First World of the fey). Character options include new feats, spells, and magical items related to travel throughout the planes.