Oz Fluxx – A Great and Powerful Card Game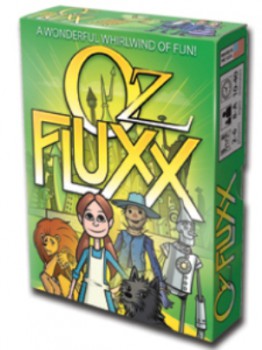 A while back, the classic card game Fluxx got a makeover in an edition that merges the game with a classic film. This certainly isn't its first makeover for Fluxx, nor even the first time it's merged with a classic film (there is a Monty Python Fluxx, for example), but given that Oz: The Great and Powerful is hitting theaters today, the version of Fluxx I'm going to talk about is Oz Fluxx (Amazon).
If you've never played Fluxx, here are the basics:
The game continually changes, as players use Rule and Goal cards to modify every aspect of the game.
Rule cards can modify the number of cards drawn, number of cards played in a turn, overall hand size, and pretty much any other asp
Goal cards redefine the objectives needed to win.
Keepers are cards you keep in front of you. Most Goals involve getting a certain combination of Keepers in play to win. Examples from this game include "The Artificial Heart" and "The Cowardly Lion."
Creepers (which are a type of card not in the original edition of Fluxx) are sort of negative Keepers, which get stuck in front of you and prevent you from winning … unless the Goal in play requires the Creeper as a condition of victory. Examples include "The Wicked Witch of the East" and "Angry Trees."
Action cards allow other actions, such as drawing extra cards, getting cards out of the discard pile, stealing or trading Keepers and Creepers, and so on.
Surprise cards can be played either during your turn or on your opponents' turn, to throw an even bigger wrench in your opponents' expectations.
Probably the best way to get a feel for the game play is to watch this episode of Wil Wheaton's Tabletop game on the YouTube channel Geek and Sundry, in which Wheaton and his friends play Star Fluxx. This edition of the game is based upon science fiction classics, most notably (and unofficially) Star Trek, although I believe there are some non-copyright-infringing shout-outs to Doctor Who and other classics as well.
But, back to Oz Fluxx …