Spotlight on Interactive Fiction: Choice of the Deathless by Max Gladstone
Between keeping up with my usual webcomics, Marvel: Agents of S.H.I.E.L.D., and several writing projects (one of them my own current work for Choice of Games), I haven't had as much time to play games (or review them) as I'd like. But back in my December 20 post, I promised an upcoming review of Choice of the Deathless by Max Gladstone. Max is a writer friend of mine and I'm not shy about proclaiming my love for his Craft Sequence — of which Choice of the Deathless is a corollary. Since Max is currently a John W. Campbell nominee, and his Three Parts Dead just made Reddit's list of under-read fantasy, I thought now would be a great time to spend some time on Choice of the Deathless — and mention his novels as well.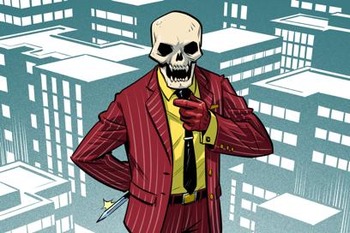 The world of the Craft Sequence is one in which human wizards — usually necromancers, most of whom wear pin striped suits and run corporations called Concerns — rose up against the gods in a huge war and won, leaving most of the gods dead. Lest you think this means the conceit of the world is all about the virtues of Progress over Faith, I assure you I don't read the stories at all that way. Progress has its own failings, Faith has its strengths, and the stories told in Max's books and game strike me as being about characters who try to find a way to reconcile the two to make the world a better place. Also: necromancers who are, effectively, lawyers, and fantasy novels that are also legal thrillers. Sometimes about ecoterrorism, corporate espionage, or just trying to find a good cup of coffee. What's not to love?
Choice of the Deathless gives the player a chance to take part in that world of exciting corporate magic, beginning at the low rung of a Concern's ladder with hopes of climbing all the way up to Partner. But while student loans, crappy apartments, and a lack of sleep all add flavor to the game, things really start to get interesting when the PC starts dealing with literal demons. In one case, the PC needs to keep demons from finding a contractual loophole that would allow them to gain an unlimited foothold in the human world. In another, an oppressed demon wants out of an abusive contract, without getting sent back to the demon lands. In a third, the PC must decide whether to advise a minor goddess to seek out her own lawyer or take her to court for everything she has. And the larger story arc gives PCs the chance to eventually become a skeletal, undead, master of magic — if they play their cards right.