Monstress: An Interview with Marjorie Liu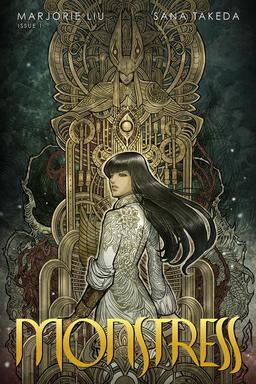 On November 4th, Image launched a new comic series called Monstress by Marjorie Liu and Sana Takeda. Liu is already well known as a New York Times Bestselling novelist, and from her work on Marvel titles such as Wolverine, X-23, Dark Wolverine, and Astonishing X-Men. I had a chance to interview Marjorie about Monstress.
Derek Kunsken: I read Monstress, and I have to say I was absolutely floored by how beautiful it is. I've seen Sana Takeda's work with you on X-23, but it seems like all the stops were pulled out here. Not only that, the setting is original and the theme of inhumanity reminds me of Scott Snyder's Wytches.
Marjorie Liu: You're so kind. I've also been floored by Sana's work on this book. I had a vision, I knew what I wanted Monstress to look like — but Sana took those ideas and just made them explode on the page. Her character designs, too, totally altered the story. I had one idea of what the book was going to be about — and then I saw what the monster looked like — and everything changed in that moment. For the better.
The revelations in the world of Monstress feel both fast and slow, drinking from the firehose, but piling up the questions on the side. Maika seems to be neither fully human nor Arcanic. Can you talk about Maika as an outcast character?