Further Tarzan-on-Demand: Tarzan the Magnificent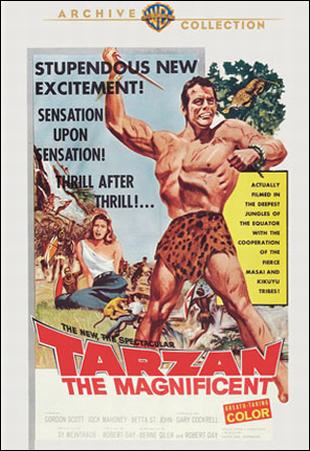 The Warner Bros. Archive Collection has taken good care of Tarzan fans. This manufacture-on-demand division of Warner Home Video offers all the films from the lesser-known Tarzan actors who followed Johnny Weissmuller in swinging from the jungle ceiling: Lex Barker, Gordon Scott, Jock Mahoney, Mike Henry, and the two seasons of the Ron Ely television story. The best of the lot for a more casual viewer is Tarzan's Greatest Adventure (1959), but Tarzan the Magnificent from 1960 comes a close second to it. It's not as lean and stripped-down as its predecessor, and director Robert Day lacks the same skill at pacing an action picture as John Guillermin, but the movie ranks among the top live-action Tarzan films ever made. And it's just a darn good adventure film in general, with some surprising levels of violence and mature subtexts.
(Tarzan disambiguation notice: The movie has no connection to the Burroughs book of the same title published in 1939 that combines two separate novellas.)
Tarzan the Magnificent is the second movie of the series from producer Sy Weintraub, who created the "New Look" Tarzan that took the character back to his more adult and violent Edgar Rice Burroughs roots. Best of all, Tarzan got his full vocabulary returned to him, breaking over two decades of film tradition that ruled the Lord of the Jungle had to horribly misuse pronouns and exterminate helping verbs.
Weintraub's "New Look" favored crime stories set in the African rainforest, which gave them a harsh and naturalistic feel. They also borrowed elements from the Western, and Tarzan the Magnificent is the most explicit example. The movie opens with a band of outlaws, an archetypal blood clan of murderous brothers under an obsessed patriarch, committing a hold-up in broad daylight. The criminals rob the pay office of a mining company in a small town, passing "Wanted" posters of themselves on the way in. Except for the African locals walking the dusty street, this might be any frontier town in a Western of the day. With veteran John Ford stock-company actor John Carradine in the role of the clan head, Abel Banton, it's hardly much of a leap to see this taking place in a lawless American frontier town. Even the name "Banton" has a Western ring to it, echoing the Clantons from the story of the Gunfight at the OK Corral.