Kickstarting the Mindjammer Universe: A Far Future Transhuman Utopia?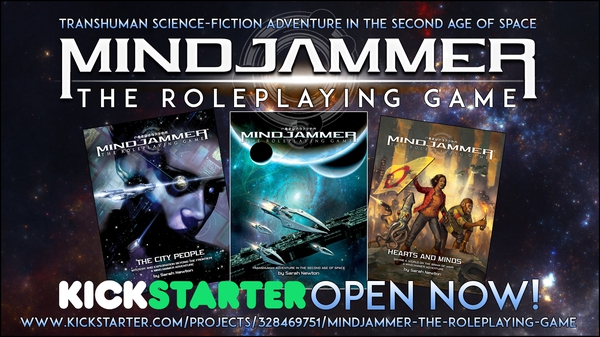 Yesterday Mindjammer Press launched a Kickstarter for my far future transhuman science-fiction roleplaying game and fiction setting Mindjammer, to fund a series of RPG supplements and fiction for the game, including sourcebooks, adventures, and even a version for the Traveller rules. It made its initial funding goal this morning in a little less than 24 hours, and John very kindly invited me to Black Gate to speak about the Kickstarter and the Mindjammer setting.
You may know something about Mindjammer already — John O'Neill and Howard Andrew Jones have both written about it before, and I've blogged about it here too. It's set in Earth's far, far future — approximately 17,000AD — during the Expansionary Era, when a formerly stagnant civilization on Old Earth has reinvented itself as a "New Commonality of Humankind" following the discovery of "planing" — faster-than-light travel. Now, two centuries on, the Commonality is journeying to the stars, rediscovering lost colonies settled from Old Earth by slower-than-light generation and stasis ships millennia before. Cultural conflict is everywhere, between this vibrant, optimistic, yet overwhelmingly strong interstellar civilization, and the disunited, often highly divergent lost colony cultures which are facing "integration" at the Commonality's hands.
The Commonality considers itself the brightest and greatest civilization of humankind. The Mindscape, a vast interstellar shared consciousness and data storage medium to which all Commonality citizens are linked by neural implant, gifts its citizens with technological telepathy and the awesome powers of technopsi. It also lets them upload their memories, and download the memories of other people — even dead people. Artificial life forms with synthetic personalities based on the memory engrams of dead heroes abound: even the starships are sentient beings, the eponymous "Mindjammers", faster-than-light vessels which travel between the stars, updating the Mindscape and knitting transhumanity's interstellar civilization together.