Why isn't Conan a Mary Sue?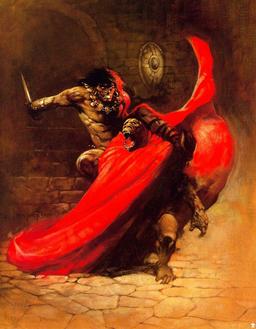 How is Conan not a Mary Sue?
The barbarian is pretty obviously Robert E Howard's authorial self-projection into the Hyborian Age. Big, bellicose and amoral, but honourable and never mean. He's mighty-thewed death on two legs, women fall into his arms, kingdoms fall at his feet. He male bonds when he falls into good company, and despite being a barbarian fish out of civilised water, he commands the loyalty of his men and the respect of those nobles worthy of respect.
He's everything Robert E Howard was and wasn't and might have been had the big Texan lived long enough to fight in WWII. (Imagine Howard as a veteran of Iwo Jima, and the great literature he would have written…)
Really, how is he not a Mary Sue? (He certainly fails a Mary Sue test)
And yet, Conan survived the oh-so-ironic later 20th century. One whiff of Thrud should consigned him to the company of Captain Future and Doc Savage: The emperor barbarian has no clothes on! He even weathered Terry Pratchett's slash and burn through the genre.
Was it just that Howard invented Sword and Sorcery?
No. Conan's literary longevity is more than just about being first with sandals on the ground.