The Ballantine Adult Fantasy Series: The Silver Stallion by James Branch Cabell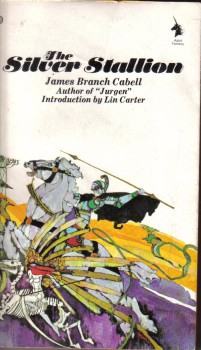 The Silver Stallion
James Branch Cabell
Ballantine, 1969, $0.95
Cover art by Bob Pepper
Internal illustrations by Frank C. Pape
So now we come to one of the better known (some would say infamous) authors in the Ballantine Adult Fantasy line. James Branch Cabell is, to the best of my knowledge, the only author in the lineup who had a book (Jurgen) as the centerpiece of an obscenity trial.
James Branch Cabell was born in Virginia on April 14, 1879. His family was wealthy enough that he could devote his time with genealogical research and writing a complex series of fantasy novels.
These novels are called the Biography of Manuel. They concern Dom Manuel, who rose from being a pig farmer to ruler of the fictional French province of Poictesme. A total scoundrel, after his death, Manuel's widow Niafer and the saint Horvendile engage in a PR campaign of impressive proportions, recasting him as a faultless savior who will come back to restore Poictesme to holy glory.
But the series doesn't stop there. Some books deal with Manuel's descendants. There are 25 books total, written over a period of 23 years. They weren't written in order of internal chronology and contain a number of references to other works in the series, some subtle and some fairly prominent.
The Silver Stallion opens following the alleged death of Manuel. Jurgen, the son of Coth of the Rocks, claims he saw Manuel taken up into the heavens while riding with Father Death. The Fellowship of the Silver Stallion is the group of Manuel's closest companions and advisers. They react to news of Manuel's death in a variety of ways.