A (Black) Gat in the Hand: It's a Hardboiled June on TCM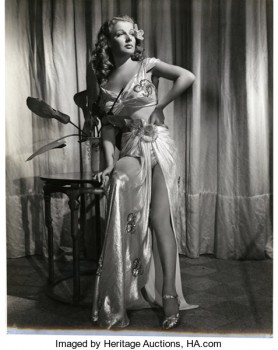 "You're the second guy I've met within hours who seems to think a gat in the hand means a world by the tail." – Phillip Marlowe in Raymond Chandler's The Big Sleep
(Gat — Prohibition Era term for a gun. Shortened version of Gatling Gun)
Coming off of Edward G. Robinson as the May Star of the Month on TCM, June is Ann Sheridan Month. The 'Oomph Girl' appeared in several hardboiled/noir/crime movies, so we'll tell you some movies to look for.
Every Tuesday, there is a batch of Sheridan movies, and things kicked off June 1st, with eight flicks, including two Bogart movies: Black Legion, and The Great O'Malley. But the past is prologue.
Now, all of these films can be streamed live on Watch TCM if you get Turner Classic via your cable company. But even if you don't, most of them can be viewed for at least one week after airing on WatchTCM. Some, like Casablanca, don't get put up. I assume it's to help sell mover DVDs. But most do. So, if you miss a movie, you can watch it via the app, or the website.
Having laid all of that out, let's take a look at some of the June films, all EST:
June 2 (look for on Watch TCM)
8:00 PM – Black Legion
A 1937 'social cause' movie. It's based on the real-life Black Legion, which was a splinter group of the Ku Klux Klan. Humphrey Bogart is a factory worker with seniority who gets passed over by a smarter, harder-working foreigner. And ends up joining the hate group. It was a strong performance by Bogart, who was just being forced by Warners to crank out B-movies (this was four years before High Sierra). Sheridan is fourth-billed and is really only the third main female. The speech from the judge at the end is as heavy-handed propaganda as you'll run across in a Bogart film. Worth a watch.
9:30 PM – Dodge City
This is a big budget western, starring the swashbuckling Errol Flynn. Michael Curtiz (Casablanca) directed, with a great musical score by Max Steiner. One of my favorite comic supporting actors, Frank McHugh, is here, as Sheridan plays female second banana to Olivia de Haviland. This movie features a heck of a bar room brawl, and the cast is solid. There was an unrelated follow-up with Flynn, Virginia City. Which included Bogart as a Mexican raider with a cheesy mustache.