Nero Wolfe's Brownstone: Hercule Poirot visits Nero Wolfe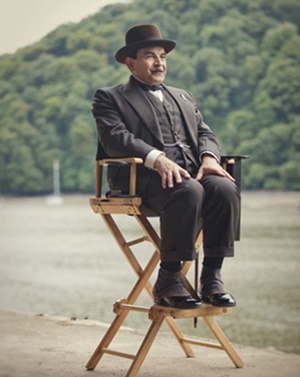 Been writing and reading a lot of Nero Wolfe lately (when I'm not re-watching Columbo before bed).
Just to channel Archie, I like to have favorite detectives visit Wolfe's office. For some fun, I'm well over 5,000 words into a story with Groucho (Rufus Flywheel) and Chico on a case with Archie (and Wolfe) at The Big Store. I've tinkered with Dirk Gently (my favorite Douglas Adams character) using Zen navigation and Archie confronting him in front of the Brownstone.
I have toyed with a solo Poirot adventure, based on a non-Poirot story written by Agatha Christie. My Poirot is very much David Suchet's portrayal, and it's fun to write.
So, I had Poirot visit the Brownstone. I may add a scene during lunch, with them talking about another subject; the conversation mildly annoying Archie. That could be fun.
---
The fussy little Belgian was so far forward in the red chair that it barely qualified as sitting. His back was perfectly straight, and there couldn't have been a centimeter of space between his shoes. I had never seen a man take off a pair of gloves so deliberately. I don't know how he could possibly be comfortable, but he didn't seem to be bothered at all. It's as if that were the only natural way to sit. And I'm telling you, it definitely wasn't natural.
I had received a call three weeks before from a Captain Arthur Hastings, in London. Wolfe had used a competent operative named Ethelbert Hitchcock over there. And I'm not making that first name up. I started calling him Geoffrey to keep from laughing as I typed these little accounts. I don't think he'd mind too much.