Bleak Creek overflows with Universal Truths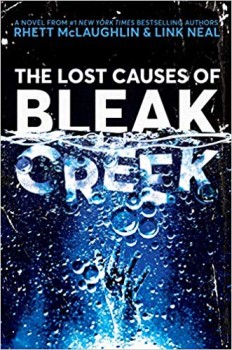 The Lost Causes of Bleak Creek is not a novel I expected to be reviewing for Black Gate. It is a compelling thriller with a preternatural undercurrent that I heartily recommend, but that's not what one would have expected from its authors. Rhett McLaughlin and Link Neal have carved their own successful niche with Good Mythical Morning, a YouTube talk show/comedy show which seems to have successfully updated Ernie Kovacs' format for the hipster generation. While that may be an accurate description on the surface, it belies the expansiveness of their burgeoning Mythical Entertainment media empire and its audience demographic composed of 20 million subscribers across their platform.
These two childhood friends from a small town in North Carolina have written two bestsellers; made their own critically-acclaimed, incredibly bizarre, but consistently funny streaming sitcom, Buddy System; hosted a trainwreck fascinating, but frequently funny IFC reality show, Commercial Kings; made an award-winning feature-length documentary about the search for their First Grade teacher, Looking for Ms. Locklear; released comedy albums; performed sold-out comedy concert tours on several continents; put together their own stage show to tie-in with their first book; and are currently undertaking a book tour in theaters around the country to promote their first novel. Regulars on Jimmy Fallon's Tonight Show where they provide a reminder of what late night comedy meant for those old enough to remember Carson or at least Letterman in his prime, they may be the two most ambitious and successful cult figures in the U.S. at present.