Blogging Sax Rohmer's The Wrath of Fu Manchu, Part One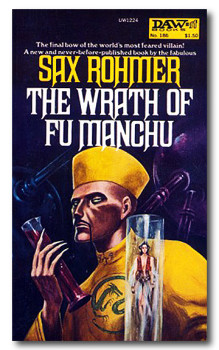 The Wrath of Fu Manchu was a 50-page short story serialized in five installments in The Toronto Star weekly supplement from January 26 to February 23, 1952 under the unlikely title Green Devil Mask. It was given its current title when Rohmer scholar, Dr. Robert E. Briney made it the centerpiece of a posthumous hardcover collection of previously uncollected short fiction, The Wrath of Fu Manchu and Other New Stories first published in the U.K. in 1973 by Tom Stacey. A U.S. mass market paperback edition from DAW Books followed in 1976. It was subsequently reprinted in Allison & Busby's Fu Manchu Omnibus – Volume 5 in 2001. Titan Books will reprint the original collection as a trade paperback in March 2016.
The story was initially published only in Canada due to a copyright loophole. Rohmer had recently sold the option to the television rights to the Fu Manchu characters and was prohibited from publishing new works about the characters in Britain or the United States until the courts resolved a dispute over whether the literary rights transferred with the agreement. This situation persisted for the next five years until the literary rights were eventually restored to the author. The character was an easy money-maker for Rohmer at a time when his bank account was suffering. Rohmer's desire to fly under the radar with the Canadian publication of the story likely accounts for his original decision to avoid using the name Fu Manchu in the title of the story.