It Came From GenCon 2012: Craft Edition
GenCon isn't called the biggest four days in gaming for nothing. As Howard Andrew Jones recently pointed out, it's easy to go for several years and completely miss major tracks of programming (such as the fantastic Writers Symposium programs). One thing that's easy to overlook amidst all the games are the great crafting booths…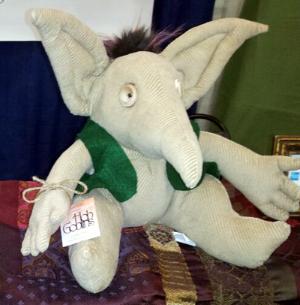 Goblin Road's stuffed Hob Goblins
Black Gate has always been about finding the lesser-known sides of the fantasy world, and the Goblin Road line of products definitely fits the bill. They make dolls and masks, but let's focus first on the dolls – such as this fun little guy shown to the right. These Hob Goblin toys are handcrafted in Ohio.
These things were just adorable and, as a gamer who has young gamers-to-be in the family, I thought they were awesome. The one flaw that I can see is that there isn't a ton of diversity. There are three colors of vest, but all of the dolls had tan skin. I'd love to see some diversity in skin tone, as well as hair styles, and so on, to help mix it up a bit.
One fun little feature is that each Hob Goblin comes with a goblin adoption certificate, sort of like the ones that used to be included with Cabbage Patch Kids dolls, indicating that the goblin has been adopted by a kind human for their care and feeding.
In addition to the Hob Goblin dolls, Goblin Road produces molded leather masks of various styles, and some other accessories, such as horns. These were fairly impressive and reasonably priced as well, but aren't currently listed on the website, though I'm told that the website will be updated to include these products in the relatively near future.