Nero Wolfe's Brownstone: 2020 Stay at Home – Days 20 and 21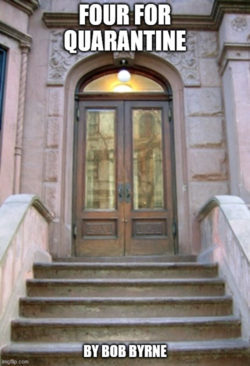 So, last year, as the Pandemic settled in like an unwanted relative who just came for a week and is still tying up the bathroom, I did a series of posts for the FB Page of the Nero Wolfe fan club, The Wolfe Pack. I speculated on what Stay at Home would be like for Archie, living in the Brownstone with Nero Wolfe, Fritz Brenner, and Theodore Hortsmann. I have already reposted days one through fifteen. Here are days twenty (April 10) and twenty-one (April 11). It helps if you read the series in order, so I've included links to the earlier entries. I enjoy channeling Archie more than any other writing which I do.
DAY TWENTY – 2020 Stay at Home
I tried calling Inspector Cramer after breakfast, but he was out. Apparently my fellow New Yorkers are still committing homicide. I'll call the station later in the day. I'd like to visit a crime scene and try to do some detecting.
I had more success calling the hospital to check on Bill Gore. I found out that he had gotten through the worst of it and recovered enough to be sent home. I wasn't going to call him up, but it was good to know he had survived the virus.
It's Good Friday. I am not religiously inclined, but I will say that I'm glad that those who are, received some hope today. That commodity seems to be in pretty short supply these days. New York City has had more deaths than all but four entire countries. Instead of 32,000 fans watching the Mets at Citi Field, they're digging mass graves out on Hart Island. If somebody wants to believe that a man dying on a cross is good for mankind, then that's one death I'll tip my hat to. Just don't expect me to kneel.
I'm generally a pretty orderly guy, and I keep my stuff neat and tidy. I don't like messy. This lock down has given me the opportunity to really organize my things. I was moving a couple boxes around and started looking through some of my old notebooks. I saw my notes on the Adam Nicoll murder. I might type that one up if we're stuck at home for another couple months. That's one I worked on while I was self-employed during Wolfe's 'great hiatus.' He had simply vanished as he put operation 'Get Zeck' into effect, without even telling me. I opened up shop for myself and kept reasonably busy until Wolfe suddenly reappeared. Lily was the source of the Nicoll case. Indirectly.
I have a Facebook account. I don't use it much, and I could, and often do, live without it. But I do post occasionally – Often related to baseball. Today, someone left a comment on my post, letting me know they were going to snooze me for 30 days. Now, you don't have to like what I say. It's a free country. Well, lately it hasn't been as free as usual, but still: Why in the world would you tell me, on my own post, that you're snoozing me? Whether you see my posts or not isn't going to change my day. Just do it. It reminds me of the Pharisees preaching in the Temple square, so everyone would see them. Hey – I didn't say I haven't read the Bible. You don't grow up in rural Ohio and not get some religion lessons.