Birthday Reviews: Eric Flint's "Portraits"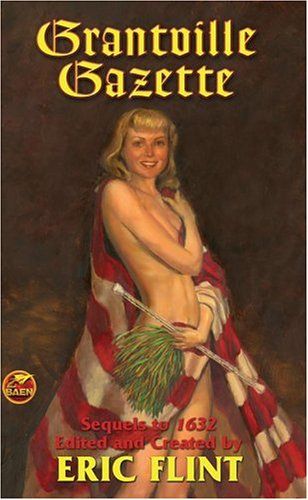 Eric Flint was born on February 6, 1947. His first story, "Entropy and the Strangler" appeared in L. Ron Hubbard's Writers of the Future Volume IX. He has collaborated with numerous authors, both established and new over the course of his career, including David Drake, Mercedes Lackey, S.M. Stirling, Ryk E. Spoor, Dave Freer, Gorg Huff, Paula Goodlett, Charles E. Gannon, Mike Resnick, etc. The list goes on and on.
His time travel novel 1632 has not only led to sequels from Flint, but to a thriving fanbase which he encourages to write their own stories and articles, many of which have been workshopped online and published in online zines and hardcopy books. These include not only short stories, but also novels.
Flint has worked to bring back into print the works of several classic science fiction authors, including Murray Leinster, James Schmitz, Keith Laumer, Tom Godwin, Christopher Anvil, and A.E. van Vogt. With Jim Baen, he established the Baen Free Library and he also served as editor of Baen's Universe. He has edited various anthologies, including The World Turned Upside Down and When Diplomacy Fails.
"Portraits" first appeared in The Grantville Gazette, an online magazine tied to Flint's 1632 series, which allows various authors to discuss the setting and try their hand at fiction. When Baen decided to publish hard copies of some of the articles and stories, "Portraits" was reprinted as the first story in Grantville Gazette Volume I (2004) and provided the volume with its cover art. It was subsequently reprinted in Flint's collection Worlds.
"Portraits" tells the story of Anne Jefferson, an American nurse posing for the Flemish artist Pieter Paul Rubens. The story assumes knowledge of the 1632 situation and characters Flint introduced three years earlier. This is a story which relies on its published context to be fully appreciated.
In its few pages, however, Flint is able to demonstrate some of the differences between Anne Jefferson's outlook as a twentieth century American trapped in 1635 and a native artist from that period. The scenes set between Jefferson and Rubens, or Rubens and his wife, can stand well on their own and hint at the larger world.