On The Fringes of Ancient Egypt: Exploring the Antiquities of Bahariya Oasis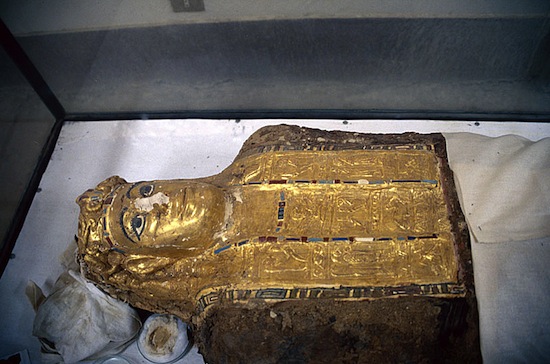 One of the Golden Mummies.
Creative Commons photo courtesy Roland Unger.
As I mentioned in my last post, I recently visited Bahariya Oasis in the Western Desert of Egypt. The oasis became famous in 1996 with the discovery of a series of tombs of the Greco-Roman Period (332 BC-395 AD). They were found accidentally when an Antiquities Guard was leading his donkey on a sandy stretch near the Temple of Alexander the Great when the animal's hoof broke through the surface. Once he extricated the donkey, he peeked inside and saw an underground chamber.
Famed Egyptologist Zahi Hawass excavated the site and found several tombs, removing more than 250 mummies. Many had gilded masks like the one pictured above, and the site soon became known as The Valley of the Golden Mummies. Hawass believes that he has uncovered only a tiny fraction of the tombs. A few are on display in Bahariya, including the one above, but photography is forbidden, so I wasn't able to take any shots for you. How Roland Unger got this shot I'll leave as a riddle unsolved.
Bahariya was an important place in Greco-Roman times, having good agricultural land that could be cultivated year-round, instead of the Nile valley that flooded every year. Thus it was a good spot for growing grapes to make wine.