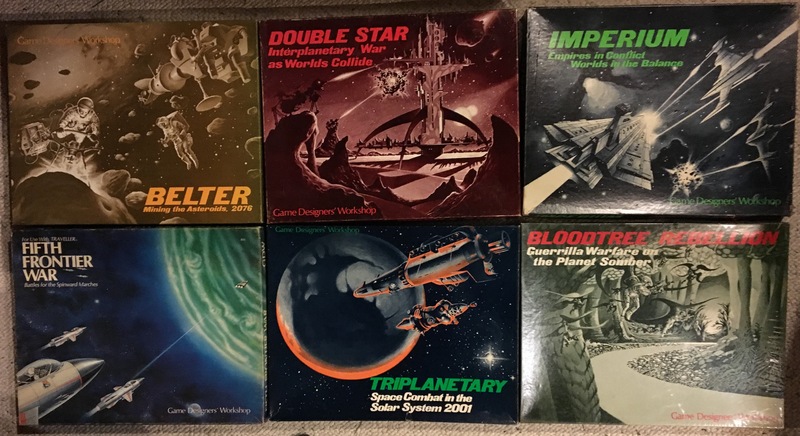 Just a few of the classic SF games pubished by GDW
I heard from my friend Jolly Blackburn that gaming pioneer Loren Wiseman died yesterday.
Wiseman was a name well known to old-time gamers. With Frank Chadwick, Rich Banner, and Marc Miller, he co-founded legendary publisher Game Designers' Workshop in 1973. GDW published some of the greatest SF and fantasy boardgames and RPGs ever made, including Traveller, Twlight 2000, Space 1889, Gary Gygax's Dangerous Journeys, Imperium, Fifth Frontier War, Mayday, Azhanti High Lightning, Dark Nebula, and countless others (Wayne's Books has a nice summary of the Traveller Universe board games, and there's a compete list of GDW's gaming output at Wikipedia).
Many tributes have been pouring it on Facebook and other places — including one from Jolly, who credits Wiseman with giving him his start in the gaming industry. In addition to his lengthy list of credits as a game designer and publisher, Wiseman was also editor of the Journal of the Travellers Aid Society and Challenge magazines. After GDW closed in 1995 he joined Steve Jackson Games, where he became the Traveller Line Editor. He received the Origins Award for Best Role-Playing Adventure (for Twilight: 2000 Going Home) and was inducted into the Origins Hall of Fame in 2003.
---