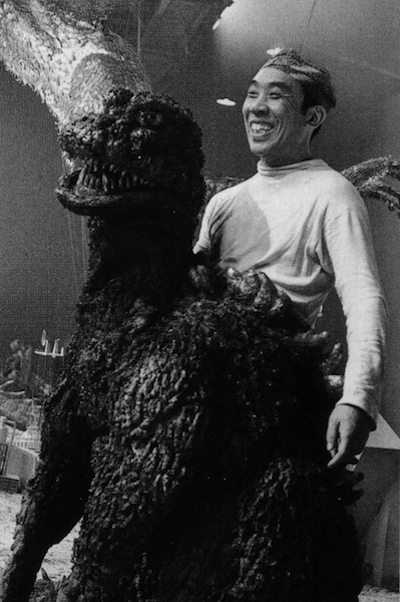 While I was debating on Tuesday whether to focus on writing about the Blu-ray release of Shin Godzilla or completing the next John Carpenter series installment, The Thing, the news hit of the death of one of the last surviving participants of the 1954 Godzilla, Haruo Nakajima, from pneumonia at age eighty-eight. It was a painful blow: that Nakajima was still out there and alive was a reassurance to any Godzilla fan, because he actually was Godzilla — the first performer inside the monster costume, back in the original Godzilla, and the one who stayed with the part the longest, playing the monster until near the close of the original Showa Era. He suited up as Godzilla in twelve films from 1954 to 1972, a record that's unlikely ever to be beat now that even Japanese Godzilla films have switched to using CGI rather than the old fashioned suits.
We talk about how Japanese giant monster (kaiju) films are done with "man-in-a-suit" special effects, but we often don't understand what that implies. Since we're once again deep in the "Does Andy Serkis deserves an Oscar nomination for a performance-capture role?" debate that comes after the release of each of the new Planet of the Apes films, it's appropriate to remember the great performances from the suitmation actors who long preceded CGI-assisted characters.
And among suitmation performers, Nakajima was one of the finest. He infused Godzilla with a personality that emerged stronger and stronger during the period he was inside the costume. Godzilla, arms stretched forward in an attack pose, daring another giant monster to charge with the slight turn of the head — that's down to Haruo Nakajima. He influenced the way Godzilla is acted as much as Boris Karloff influenced the Frankenstein Monster.
---