And the Bright Star Falls Behind: On Gene Wolfe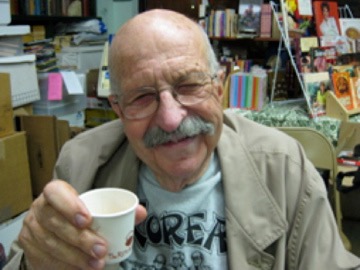 Gene Wolfe at Top Shelf Books in Palatine, IL
When John asked me to write an article for Black Gate about Gene Wolfe, I agreed immediately. I had written a blog about his passing, and a poem, and then a remembrance for the latest issue of Locus — the print magazine, not the online zine, although they have a wonderful remembrance of him here.
I wanted to keep writing about him, as if writing were an act of resurrection. I wanted to write everything.
But instead of getting easier, it's been getting harder. I've been wracking my brains about this blog. So many amazing articles have been coming out about Gene, beautiful interviews and retrospectives. What more can I say? My memory is panicky, faulty. I don't know what to add.
I'm not an expert on Gene's work. I've read a good deal of it, but not everything. I knew him more as a mentor and a person than as a writer. I was looking forward to having my whole life to read his work.
But I've gathered up here, for you, some of my favorite articles about Gene by people who are much more critically familiar with his writing than I am.