Black Gate 5 — Spring 2003
Black Gate 5 — Spring 2003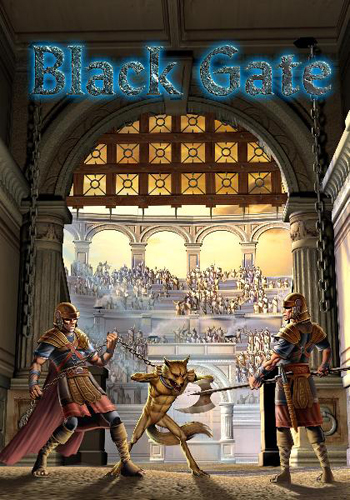 208 pages, $9.95
On Sale February 2003
Edited by John O'Neill
Published by New Epoch Press
Cover Art by Chris Pepper (Illustrating "Two-Skins" by Shawn L. Johnson)
Interior Art by Chris Pepper, Bernie Mireault, Denis Rodier, Greg Faillace, Chuck Lukacs, and Gregory Price
---
FICTION
"The Mourning Trees"
by Peadar O Guilin
The deadly mourning trees were a remnant of a sorcerous war, and now one clutched Moya's only son.
"Stand at Llieva"
by Joseph A. McCullough V
In which Stevan the Targeter must defend his island stronghold against the mages of the Orient — or die.
"There's a Hole in October"
by Todd McAulty
Pierre was just trying to do a little business across the border… until a snowy Ontario highway and group of very lost children forced a drastic change of plan.
"The Dead Man…"
by S. C. Smith
The Dead Man awoke on the shores of the Styx, only to find Hell ain't what it used to be.
"Law and Justice"
by Michael H. Payne
Leopard must defend an innocent before the animal court, even as the deadly Blood Jaguar watches hungrily from the sidelines…
"La Desterrada"
by Jennifer Busick
It's a dangerous thing, to be a Fire Magus at sea — and far more so when the ancient art is forbidden to your sex.
"North"
by Brian A. Hopkins
Joey is blind, cold, and lost in the the forest… until he hears the wolves of the sea.
"Barbarian Instinct"
by Don Bassingthwaite
The men chasing Cacia are brutal and relentless… but it was the deadly secret of the ruins that would ultimately decide her fate.
"Two-Skins"
by Shawn L. Johnson
Ranu is a brave and very resourceful young man. But he'll need to be more than that to survive the Emperor's  gladiatorial games…
Fantasy Classic: "Tumithak of the Corridors"
by Charles R. Tanner
Untold ages ago man was driven underground by the invading Shelks, there to live like rats in the endless corridors… until the coming of Tumithak. A classic from the Golden Age of Fantasy!
---
ARTICLES
Editorial
by John O'Neill
---
REVIEW FEATURES
The Comics Cauldron
by Claude Lalumière
Book Reviews
by Lisa DuMond, Jeffrey Ford, Victoria Strauss and Sue Granquist.
---
GAMING
Fantasy Game Reviews
by Don Bassingthwaite, Jennifer Brozek, Howard Andrew Jones, and Michael Thibault
---
COMICS
Knights of the Dinner Table: The Java Joint
by Jolly Blackburn, Steve Johansson, and John O'Neill