A review of Under Heaven by Guy Gavriel Kay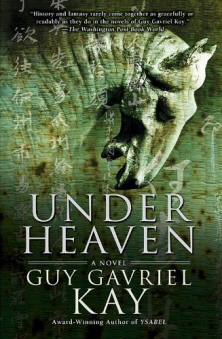 Under Heaven, by Guy Gavriel Kay
Roc (592 pages, $26.95, April 2010)
We don't have that many rituals in our home. One is the creeping countdown to Guy Gavriel Kay's newest novel. I am always a little sad when it finally comes, though, because it means years before I will see his next one.
If you liked Tigana or The Sarantine Mosaic, you will like Under Heaven. If you have not read Kay before, then do. But don't start with Under Heaven. It's one of his best, but you'll want to save it for last.
Start with Tigana, then maybe A Song for Arbonne and The Lions of Al-Rassan. Jump to The Last Light of the Sun (or skip it entirely) and then go back for the two volume The Sarantine Mosaic (his second best). Then, and only then, should you read Under Heaven*.
Kay's efforts have definitely improved with time.  A big part of that is no two stories are  in the same place, or use the same characters. I recently whipped through Jim Butchers' twelfth Dresden installment, and am eager to read the upcoming sixth Temeraire dragon novel by Naomi Novik. Both series are fun, likely lucrative, and the authors pump out new adventures every year or two. But I sometimes wonder if they and other fantasy series novelists are a little jealous of GGK's apparent freedom to always work on new ideas.