The English Civil War with Clockwork War Machines: an Introduction to Clockwork & Chivalry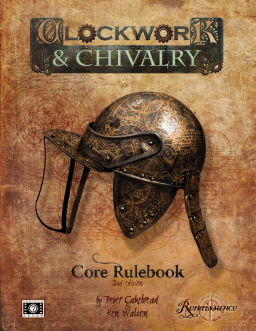 Hi Folks,
I'm Peter Cakebread. Along with my friend and co-writer, Ken Walton, I run a small company, Cakebread & Walton.
With a company name like that, it has been suggested that we could have been undertakers, or perhaps owned a quaint little coffee house, or even been nineteenth century grave robbers – "There are no Peelers out tonight, Mr Walton, so pass me the shovel, if you would be so kind." Instead, we write tabletop RPGs (Role Playing Games), and fiction, although we are always looking to diversify, so keep the suggestions coming!
To date, our games are mostly published by Cubicle 7 (who also publish The One Ring and Doctor Who RPGs, alongside a host of other titles).
This time, I thought I'd chat about Clockwork & Chivalry, our clockpunk RPG set in an alternate Seventeenth Century.
Clockwork & Chivalry is a RPG set in the time of the English Civil War. The English Civil War was fought between the Royalists (the Cavaliers) and Parliament (the Roundheads). We haven't veered away from most of the real history, it's simply too interesting, but we have added a couple of rather big twists – in our setting the Royalists use magick, and the Parliamentarians have giant clockwork war machines.
But, Woah! Go back! Where did this idea come from?