An Introduction to King of Chaos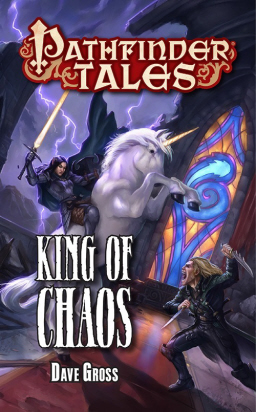 When I began writing Queen of Thorns, my favorite secondary characters were the bleachling gnome Fimbulthicket and the elven Calistrian inquisitor Kemeili. Before long, however, the elven paladin Oparal grew closest to my heart.
That proved problematic because I was revealing her character through the eyes of my flawed protagonists, Radovan and Varian, each of whom has his own tilted worldview when it comes to elves, paladins, women, or all three. Thus, by the end of the novel I feared Oparal had earned less sympathy from the readers, who had seen her only from the outside, than she had from me, who knew the secrets of her heart.
Thus, as I was finishing revisions on the novel and editor James Sutter and I discussed where the boys might travel next, I added a scene showing that Oparal would leave Kyonin to join the Silver Crusade against the demons of the Worldwound, knowing full well the boys would soon join her. It was time, I decided, to tell part of the story from her point of view.
Elsewhere, you can read about how hard it was to find Varian's voice after establishing Radovan's first, in the novella "Hell's Pawns." It was slightly less difficult to come up with the "voice" of Arnisant the Ustalavic wolf hound in "Master of Devils." Finding Oparal's voice took me several tries, and I probably rewrote this first chapter four or five times before feeling I'd found it and having the courage to move on to the rest of her chapters.
I hope you will find it a voice equal to those of "the boys," and by the end of the novel, I like to think we've seen Oparal from the inside as well as from the outside.
Read the first chapter of King of Chaos right here at Black Gate, and try an exclusive excerpt of Queen of Thorns here.
To order the novels, visit paizo.com.